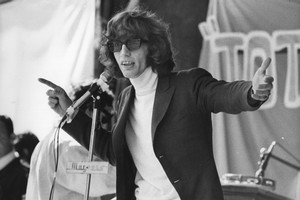 Robin Gibb of the Bee Gees - younger brother of Barry and twin to Maurice, who died in 2003 - is on the road again, this time singing the Bee Gees' classics as a solo artist. He's done it before.
Forty years ago, in fact, when he briefly quit the band after their 60s fame (half a dozen chart-topping singles) and was enjoying a solo hit with Saved by the Bell - a shrill, aching ballad - Robin Gibb was the drawcard at the "National Music Convention" at Swanson's Redwood Park in West Auckland. He remembers it, but not fondly.
"It was quite chaotic because there was a whole lot of people and not a lot of security. I almost had to climb a tree, it was frightening. It got quite dangerous. The concept of security hadn't crept into the popular arena. It started out as enjoyable and then the audience got out-of-hand."
And someone threw a tomato at him, as a YouTube clip shows.
Maybe that fruit-thrower helped change the course of pop music. For within months of that debacle Robin was back with his brothers and the second, even more successful phase of the Bee Gees' career began.
The Bee Gees' story from there can be told in prompt words and statistics: Saturday Night Fever, disco, Grease (written by Barry), Islands in the Stream for Dolly Parton and Kenny Rogers (which they originally wrote with Marvin Gaye in mind); in excess of 200 million units shipped; their songs recorded by more than 2500 artists; six consecutive number one singles in the United States in 18 months from early '78 ...
In terms of popular success their only songwriting equals have been Lennon and McCartney, although Robin makes a point about that comparison.
"When I'm in England, Europe, New York, Los Angeles ... wherever, if I turn the radio on I hear about four or five Bee Gees or Gibb Brothers songs every day, but not the Beatles... and it's because our music has got black influences to it. People of a younger generation can relate to it, whereas the Beatles music is very fixed in its time, the psychedelic music of the late 60s doesn't quite gel. Stayin' Alive doesn't sound out of place, but Strawberry Fields would."
The Bee Gees always recoiled from the word "disco" but Robin seems no less comfortable with the suggestion that the continued success of many of their songs is because they are dance-driven. "You say that, but we didn't think when we were writing any of our music that you would dance to it. We always thought we were writing R'n' B grooves, what they called blue-eyed soul. We never heard the word 'disco', we just wrote groove songs we could harmonise strongly to, and with great melodies. The fact you could dance to them, we never thought about."
He is insistent, however, that what got them into the top echelon of legendary songwriters and performers was hard work, and the ability to play live.
"We were actually one of the acts that could sing real all the time, and that was considered normal. If you sing live on stage today, that's considered abnormal.
"People ask me about starting out and say it was easier then. But it was harder because a record company wouldn't sign you unless you could play live and carry a show.
"The benchmark for getting a recording contract was much higher. Today people have [expensive] recording equipment in their front room - but it doesn't make them songwriters or great singers or harmonisers. What it can do is make pretty bad songs sound good, for a while.
"For not very talented, professional or seasoned young bands, it's possible to bring out a record and get immediate recognition for a groove or a sound they otherwise couldn't get if they hadn't had access to this advanced technology."
He also says British acts today aren't as hungry to break into America as those of his generation: "So very big acts mean nothing beyond the white cliffs of Dover. In the past, the whole of the American market would open up because they went over there and worked their guts off, as we did. A lot of young artists in Britain just don't put time into it. They want it, but you can't get the States and still live in London."
Yet, if anyone thinks Gibb - at age 60 and feeling fine after a recent health scare - can just coast on past glories, he puts them straight. Yes, there is the four-CD retrospective Mythology box set coming out in November at the same time as a film of their lives, but he and his son Robin-John are currently writing The Titanic Requiem, to be recorded by the Royal Philharmonic Orchestra ahead of the 100th anniversary of the sinking of the Titanic in 2012 ("it's very traditional, not a rock opera, there's no backbeat").
Gibb and brother Barry still get together when the mood and ideas take them. "We're cherry-picking. Barry and I just do what we want to do and now are concentrating on the film of our life story. We came together for the last American Idol show in May in Los Angeles, and the Rock and Roll Hall of Fame in March [where they inducted Abba]."
And he has been re-elected as the president of the International Confederation of Authors and Composers which defends copyright, something he feels strongly about. But it has always been about building a song catalogue. "Because we've been composers, the music has gone ahead of us. It's always on the radio and although technically you may not be out there as the Bee Gees, you go past the pub and there's a Bee Gees tribute band. People are queuing up to see someone who gets up in the morning and makes a living out of being me. Astounding."
LOWDOWN
Who: Robin Gibb presents An Evening of the Bee Gees Greatest Hits
Where: Vector Arena, November 8 (with the Pointer Sisters)
Trivia: Robin Gibb's orchestrated 1970 solo album Robin's Reign is considered a pop-psychedelic masterpiece in some circles: "Sometimes on the BBC they'll play unreleased tracks from that album that even I haven't got," he says.
-TimeOut