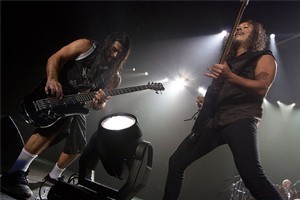 Metallica never really went away. They just went through a prolonged period - of around 15 years - in which they lost sight of what they do best.
But last night in Christchurch at their first show in New Zealand since their headlining slot at the 2004 Big Day Out, they got back to being hard, fast, and heavy.
Put it this way, they don't get much better than One (complete with pyrotechnics and machine gun fire), followed by Master of Puppets (a 10-minute version) and a reckless and bludgeoning Battery.
Last year's album Death Magnetic was a return to their aggressive and pummeling thrash days of the 80s when Kill 'Em All, Ride the Lightning and Master of Puppets became the benchmark for metal.
And the opening track from that new album, That Was Just Your Life and the hammer and tongs barrage of All Nightmare Long are testament to how enduring the band's signature sound is today.
Death Magnetic has also given them a new lease of life after the turmoil and dysfunction surrounding the recording of their odd and clangy last album, St Anger.
This show in Christchurch was special, as it was inspired by a petition (they played Broken, Beaten and Scarred for Jamie Woods, one of the petition lynchpins), and it's been only 2 weeks since the earthquake.
The 9000 black shirt-wearing fanatics were keen to hoot and holler, and they got to on everything from Enter Sandman, to the poised and beautiful Nothing Else Matters, which was one for the ladies and the lighters, and the traditional finale Seek & Destroy.
Singer and guitarist James Hetfield is in the best voice he's been in for years, Kirk Hammett is fierce and flowery, drummer Lars Ulrich is a small immense beast, and bass Rob Trujillo is a bottom end demon.
It had its love in moments, such as when Hetfield said: "We've come to make you feel good."
But he kept good on his promise as they laid into some "old stuff" with For Whom the Bell Tolls and (Welcome Home) Sanitarium.
It wasn't meant to be the bells and whistles show of the full World Magnetic Tour. But they brought the songs. All the best ones.
Their shows in Auckland next month should be crackers.
* In an interview with the Herald before the concert, Lars Ulrich said the band wanted to give something positive to Christchurch.
Metallica hadn't wanted to come "stomping in" after the earthquake, but there had been "a huge outpouring of support" for their concert.
The band had intended playing only in Auckland during the World Magnetic Tour - it has two sold-out shows booked at Vector Arena next month.
But a petition to get them to Christchurch was set up in May and more than 20,000 people signed it. It was enough to convince the band to make a trip to the South Island.