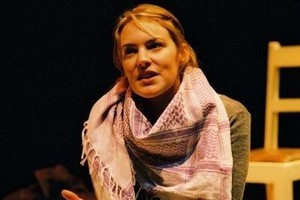 To speak about the Palestinian-Israeli conflict is to enter a battlefield and even the most well-intentioned attempts to illuminate the situation seem to get lost in the grid-lock of rigidly entrenched positions.
My Name is Rachel Corrie finds a way through the minefield by drawing on the raw power of personal testimony.
The one-woman play is skilfully woven out of fragments from the emails and diaries of an American peace activist who travelled to the Gaza Strip during the Second Intifada and was crushed to death by an armoured bulldozer while protesting against the destruction of Palestinian homes.
The writer's political perspective is firmly aligned with the Palestinians but the impact of the work does not depend on its political analysis. It comes from the remarkable candour with which Rachel Corrie reveals how her own life was utterly transformed by what she experienced in the Gaza Strip. It is also clear that the 23-year-old student was an extremely talented writer who brings a sharply poetic sensibility to her observation of everyday life under military occupation.
The effect is extraordinarily powerful with a truly inspiring story of personal heroism. Kate Prior's finely judged performance captures the growing sense of maturity that makes the work so compelling.
The show opens with a realistic portrait of a self-involved student who nurses fantasies about becoming a writer and drifts into political activism out of a longing for adventure.
The arrival in Rafah, conjured up by a strikingly vivid soundtrack, brings an abrupt change and Corrie's writing suddenly takes on the terse simplicity of a haiku: "Slept in a tent. Bullet through the tent. Started smoking."
After experiencing the hospitality of Palestinian families, her political analysis is distilled into a clear, unshakeable conviction that children should not have to grow up in houses peppered with tank shells and a bewildered questioning of why we allow such things to happen.
This conviction hardens into a practical commitment to daily action and some of the most moving moments come as Corrie tries to explain why she refused to take the always-available option of leaving the war zone.
My Name is Rachel Corrie is playing at The Basement until September 25.