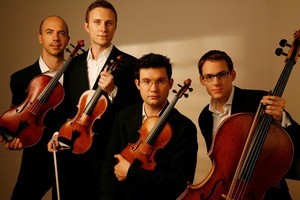 Samuel Johnson famously claimed that one would have to be tired of life to be tired of London. The same holds true for Haydn's String Quartets.
The last of the composer's Opus 20 might seem on its surface potentially placid. Yet, when the Doric String Quartet opened its Monday concert with the work, it proved to be anything but; the English musicians certainly uncovered a plethora of unsuspected voices and colours in its Allegro di molto e scherzando.
Leader Alex Redington imbued the Adagio with telling emotion, despite Haydn's deceptively casual accompaniment. His daring, yet affecting, portamenti in its final bars seemed inevitable.
After a Minuet, distinguished from its Trio in both tempo and tone, the Finale revealed that there is nothing like fugal banter to showcase a first-class ensemble.
Benjamin Britten's Second Quartet almost overwhelms with the richness of its musical material and associations.
The twin demands of logic and expressivity were amply satisfied as the four players navigated the many digressions of Britten's first movement.
The central Scherzo had some Bartokian fire in its bars, although there were still breathtaking moments when bows barely seemed to touch strings to instigate enchantment.
The Finale, a collection of variations within variations, as critic Hans Keller put it, gripped from first to last, with a special poignancy when the spirit of Purcell filtered through.
After interval, Piers Lane proved Chopin's G major Nocturne of Opus 37 was a perfect partner for the F minor Ballade, heroically delivered.
Schumann's Piano Quintet positively burst into bloom in the hands of the five musicians. The opening Allegro brillante, appropriately conveyed, melted with the utmost naturalness into the sighing conversations of the second theme.
Throughout the work, the musicians caught the delicate shifts of mood and style that are such a hallmark of this composer. Highlights included a second movement funeral march that beckoned to Mahler on the far horizon and an unbridled romp with the Scherzo.
A trip to Hamilton this Saturday to hear these fine musicians playing Haydn, Bartok, Chopin and Brahms in the award-winning WEL Energy Trust Academy of Performing Arts is highly recommended.