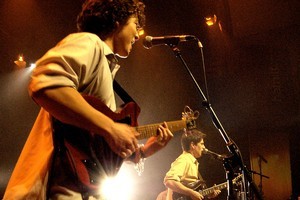 Waikato band The Good Fun have won the Smokefreerockquest.
The National Final took place at The Founders Theatre in Hamilton on Saturday night, with eight bands playing before a sell-out crowd of 1100, and a panel of music-industry judges.
The winning band members, Leroy James Clampitt, Jimi Mataio, Kam Chadderton and Fraser Macdonald are all friends from Pirongia in the Waikato. They played second on the night, feeling philosophical as the remaining bands performed.
"We just thought, oh well this is awesome, at least we've had a great night," Clampitt said.
Then it was announced they'd won a prize pool including a NZ On Air new recording and music video grant worth $10,000, recording time at York St Studio, $10,000 worth of music gear from NZ Rockshops and a trip to Fiji.
"We're going into York St this weekend to do the recording," said James Clampitt, "we get to record a single and two other songs to a demo standard."
He thinks they'll probably record Karaoke, the song that they played during the final, but they would make that call after talking to the studio staff.
All four are still at school, and plan to be full-time band members when they finish at the end of the year.
"We just feel like winning has given us a kick in the arse."
The band recorded an EP, E.P. Phone Home, in March. Up until now they funded their recording by playing as a covers band.
"Songs like Why Does Love Do This To Me? [The Exponents], you know, just your standard pub covers band songs."
One of the judges, Matt Barthow from music channel C4, thought the band's music could easily end up on the channel. "[They] have a great sound that is very relevant to today's music market," he said.
But such music industry-speak doesn't mean much to Leroy James Clampitt.
"At one stage we tried writing 'producible' songs, but they just sounded crappy. It's much better just to play and go with what comes out"
*The Good Fun play on Tonight (Thursday), 8pm at Flow Bar, in Hamilton.
*For all the winners and information about The Smokefreerockquest go here.