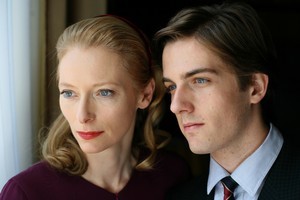 Rating: 3/5
Verdict: Gorgeous and overwrought
Ambitious, extravagant, infuriating, dazzling, thrilling and excessive in roughly equal measure, this flamboyant Italian melodrama is worth the price of admission if only because you get to stare at Tilda Swinton for two hours.
The frighteningly versatile Scots-born actress, surely among the very best of her era, is possessed of the delicate, alabaster beauty of a Raphael portrait and fittingly, much of the action in this story of a woman breaking free of the bonds of duty is written on her features.
Indeed, her face was where writer-director Guadagnino discovered the DNA of the movie: in uncut close-up, it was the only image in one of a quartet of films he made called The Love Factory, whose subjects discussed the meaning of love.
Based on the 1901 Thomas Mann novel Buddenbrooks, about the decline of a wealthy merchant family, the family here is the Milan-based Recchi textile dynasty, whose members, as the film opens, are gathered for a sumptuous family dinner at which the ageing patriarch Edoardo (Ferzetti) will anoint his successor.
The logical heir apparent is Tancredi (Delbono) to whom Russian-born Emma (Swinton) is married, but the old fellow has a surprise in store.
This early shock foreshadows even deeper disturbances in the Recchis' business affairs as globalisation comes knocking at the door. Meanwhile, the creepily placid surface of the family's emotional life develops some ripples of its own: a revelation by Emma's daughter (Rohrwacher) coincides with Emma meeting a handsome young chef Antonio (Gabbriellini), a friend of her son.
Suddenly, as the saying goes, it's all on.
Guadagnino's lush visual style, and his use of soft focus that recalls Renaissance painters, may put the viewer in mind of Visconti, and the narrative - it's a high-class bodice-ripper with nice clothes, really - owes something to both Douglas Sirk and Hitchcock.
It all adds up to a remarkably sensuous experience - a meal with which Antonio seduces Emma has understandably been labelled prawnography. But it's a film that's much easier to admire than like, or even enjoy.
It's too long by half an hour and so overwrought that you keep expecting someone, perhaps yourself, to faint at any minute. In the end it's not so much a film to watch as to luxuriate in.
Cast: Tilda Swinton, Edoardo Gabbriellini, Alba Rohrwacher, Pippo Delbono, Marisa Berenson
Director: Luca Guadagnino
Running time: 119 mins
Rating: M (sex scenes) In Italian with English subtitles
-TimeOut