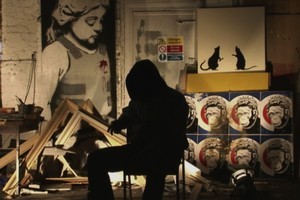 Rating: 4/5
Verdict: Enigmatic, playful, dazzlingly
The less said the better about the screen debut of the British graffiti artist known as Banksy.
That's so for two reasons: the film, more than most, depends for its effect on taking the viewer by surprise; and mystery is so integral to this artist's modus operandi that there's a thin line between discussing what he does and destroying it.
It gives nothing away to say that the question of the anonymous artist's identity is not addressed. Likewise unanswered is the question of exactly what he is.
The self-proclaimed "quality vandal" specialises in stencilled public art in the form of anarchic whimsy: tropical beaches glimpsed through "holes" in the West Bank Barrier; policemen kissing; rats (a favourite motif) posing metaphysical questions. And this unclassifiable film tells us lots about him - it is, almost in spite of itself, a pretty useful Banksy primer - while revealing nothing.
If that sounds obscure, it's intended to; the film is deliberately enigmatic but playfully so, without pretension. The substantial artifice on which it relies is like a scaffolding of spider-web - invisible but surprisingly strong.
And it's worth saying that there are plenty of clues as to what's going on. Even before the opening credits, which announce "A Banksy Film" (not, note, a film about Banksy), there's the title: it's a five-word phrase that you will have encountered repeatedly and in only one context. It's all the warning you should need as to where the film-maker wants to position you.
As it opens, the film purports to be a portrait of the artist, but soon introduces us to a very odd Frenchman called Thierry Guetta, whose cousin, a street artist called Invader, is a friend of Banksy's.
Guetta may or may not be making a film which may or may not be about him and in particular his street-artist alter ego Mr Brainwash.
Banksy's conclusion that he is less an artist than simply "somebody with mental problems" seems hard to disagree with. But the story Guetta is telling - not to mention the person he is - is a source of great amusement.
In the end, this is a film best approached credulously, rather than sceptically. It's more fun that way.
Director: Banksy
Running time: 87 mins
Rating: M, offensive language entertaining
-TimeOut