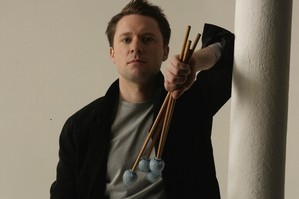 Colin Currie, that cool master of the mallets, headlined the New Zealand Symphony Orchestra's two Soundscapes concerts on Friday and Saturday.
The Scottish percussionist was just as spry dashing from instrument to instrument as he was on his last visit; but this time he brought more substantial repertoire.
James MacMillan's Veni, Veni, Emmanuel is an established modern-day classic. Its appeal lies in its sincerely expressed spiritual theme and, for those who know their plainsong, MacMillan's clever twisting of an old chant.
Restless, vibrant textures showcased Currie's virtuosity while a more poetic aspect was revealed in a shimmering marimba cadenza against sotto voce strings.
On Saturday, Jennifer Higdon's much-lauded Percussion Concerto left a little to be desired.
Currie's performance did not want for high energy. A woodblocks cadenza at one point came across like the song of a thousand cicadas - a more welcoming sound than some irksomely repetitive riffs elsewhere.
The strongest point was the give-and-take between soloist and the extensive percussion section, especially when bows coaxed ghostly sounds from the keyboard instruments.
One thrilling moment had Currie collegially catching Leonard Sakofsky's eye during a huge rallentando surge.
In between, the orchestra - which sometimes sounded like a rather meagre filling in a percussion sandwich - was not always given material of any great interest.
The discovery of this NZSO visit was young English conductor Alexander Shelley, who has made a name for himself performing Bernstein-like feats with young audiences in Germany.
Britten's Sea Pictures were positively cinematic in their immediacy. Aaron Copland's Appalachian Spring set nervy rhythms with impeccable clarity as the American composer presented square dance frolics and Quaker tunes with neoclassical icing.
Ravel's Pavane pour une infante defaunte came with a tingle to every scrumptious chord.
The two main orchestral offerings were revelations. On Saturday, a familiar Pastoral Symphony seemed more modern than ever. And Beethoven's peasants did not have to wait until the Scherzo to make merry; even the second movement's brook had a distinct lilt in its ripples.
The conductor eloquently introduced Strauss's Death and Transfiguration to the audience, sans notes and sans microphone, following it with a shattering performance that swept all before it.
Lyell Cresswell's I Paesaggi dell'anima charts landscapes with the passion and wit that we expect from this New Zealand composer.
This new piece is structured around the pithiest of ideas, subtly transformed on each return.
The NZSO strings, in top form, enjoyed everything from noirish chords to accordion-like breathings.
I Paesaggi dell'anima would certainly make a fine addition to the line-up should the NZSO consider a follow-up to its first Cresswell collection which came out earlier this year.