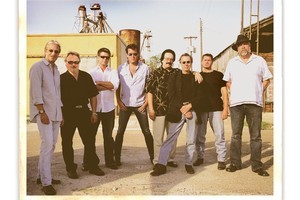 Lil' Band O' Gold's swamp-rock songs have gained popularity thanks to the hit TV show True Blood. Now, they're heading our way.
According to Louisiana-based singer CC (Charles Clinton) Adcock three types of people seek him out online: those who admire and respect his solo work; True Blood addicts; and fans of the swamp rock supergroup he fronts, Lil' Band O' Gold.
It is in his capacity as the band's singer that Adcock is touring New Zealand for the first time later this month. But Kiwi fans are likely to know him from his dalliance with pop culture and vampires after penning the song Bleed 2 Feed for the first True Blood soundtrack, plus a brief appearance in the show.
Although it is music that runs through Adcock's veins, the laid-back Southerner is only too happy to relate tales of the Deep South. "You're going to get me stuck on this one," he chuckles when asked if the TV series, which stars Kiwi actress Anna Paquin, accurately portrays his homeland. "Um, rednecks, trailer parks and vampires?" he laughs again.
But on a serious note: "I gotta be honest, I'm not just pulling your leg," he says. "There's a lot of stuff that goes on in the dark around here that doesn't come to the light and that's sort of what makes it tick."
When Adcock was approached to make music for the show, he watched the first few episodes to make sure it wasn't mocking his culture.
"It was so ridiculous and over the top that I said, 'Sure, at least no one is ever going to take it seriously'. And that's part of the spirit down here - we like to exaggerate and distort almost everything about ourselves. So I was cool with it."
Adcock can't wait to bring the nine-piece Lil' Band O' Gold, which includes the legendary drummer Warren Storm, to our shores. "I don't know if y'all know this in New Zealand, but it's the only place in the world where our record is out right now. We move slow in Louisiana and we had some boys down there in Australia who liked it and wanted to release it. We only want to take it one step at a time and we know we can play well here and we wanted to see if we can play well down there, too."
*Lil' Band O' Gold's album The Promised Land is out now.
The band plays at the Kings Arms Tavern in Auckland on September 26.
-Herald On Sunday / View