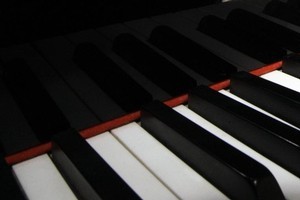 Auckland Chamber Orchestra, in tandem with Auckland Opera Studio, provided a memorable night at the opera for those with a yen for something outside of the familiar Verdi and Puccini.
Poulenc's 1959 La Voix Humaine, based on a Cocteau play, shows a woman unravelling emotionally during a desperate telephone conversation with a lover who eventually, and unceremoniously, terminates their relationship.
The composer asks a lot of his soprano and Camille Zamora showed us just why she has such a high-powered CV. Here is a singer who has done Despina in Dallas (and elsewhere) under Tim Albery, is a dab hand at Spanish zarzuela as well as being a good friend of American contemporary composers.
As Poulenc's Elle, Zamora effortlessly cast myriad evanescent emotions over the orchestral magic carpet beneath her.
Elegant in a chic black slip, she balanced vulnerability and inner strength.
Raymond Hawthorne's directorial hand was revealed in the deft setting of the piece within Stephen Fitzgerald's compact front-of-stage set. The ACO gave solid support.
From lush outbursts for memories of Sundays at Versailles to tremolo fury when Elle is faced by the prospect of old age (not to mention the many ingenious renderings of telecommunication glitches), Peter Scholes' baton caught it all.
While the opera was the main bill of fare, there was also a charming entree in the form of seven musicians playing three of the composer's sonatas.
Donald Nicholls and Elsa Holliday sleekly harnessed the sometimes wild and exotic play of the 1918 Sonata for Two Clarinets. Huw Dann, Carl Wells and Tim Sutton took us to the music hall and beyond in the 1922 Sonata for trumpet, horn and trombone, while Andrew Uren and Ben Hoadley tantalised with witty cat-and-mouse games in their clarinet and bassoon pairing from the same year.
Poulenc's urbane, worldly-wise wit never fails to divert and, with performances such as these, one could very well imagine a delightful evening devoted to the composer's chamber music some time in the future.
What: Auckland Chamber Orchestra.
Where: Auckland Town Hall Concert Chamber.
When: Thursday.