The Pleasure Seekers by Tishani Doshi
Bloomsbury $35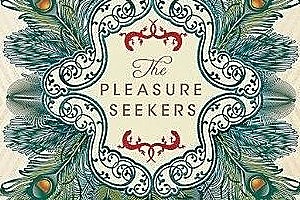 She's gorgeous. She's an acclaimed poet and dancer. She's been praised by Salman Rushdie and Louis de Bernieres. How astonishing is her first novel?
Answer: astonishing but slight. Full of brightness and invention and exuberance. A cross-cultural romance between East and West with a lot of pop names, a reliance on stock Orient/Occident jokes and scenarios, a reduction of complex characters to cosy caricatures, plus much reliance on a conveniently kindly and powerful granny.
It follows four generations of Madras-based Patels. In 1968, 21-year-old Babo comes to a City Council hostel in Wandsworth, to build knowledge and contacts that will boost his father's paint and cement business. He meets and mates with "cream-skinned", gap-toothed Sian from Wales, who looks loveliest when she's slightly drunk.
His parents are appalled. Babo is fetched home, sulks (he bears grudges like a turtle - forever), is offered a compromise. Sian comes to India, to try life with a Jain family.
Time skims along. A quarter-century of marriage flits by. Pretty children are born. Family outings to the beach drift past. Babo and Sian perform good works. Well, Babo talks about good works, Sian performs them. Decades later, one daughter follows in her father's Europe-bound footsteps.
It's a resolutely benign story. There's racism and suicide in Britain, assassination and earthquake in India. There's betrayal of religion and innocence. But love, family and warm fuzzies conquer almost all.
Doshi likes her characters enormously. Most of them radiate affection for one another. This, plus her ability to evoke their youth and vitality, energises and buoys up the novel.
Almost everyone is an eccentric, a performer, a mobile theatre - larger, louder, more two-dimensional than life. There are vatloads of brilliant local colour: "Madras was alive, singing and dancing ... quivering with delicate rainbows". Poverty and squalor are close, but seldom really impinge.
Everything is good for a chuckle, from 1960s headbands and the British postal system to digestion and the Welsh male physique. The sex is like Mills & Boon on steroids. It's an entertaining philosophy of life, if a limited philosophy of literature, and you feel Doshi is perfectly happy to write it this way.
A carnival and a cornucopia untrammelled by weightier bits. Sit back and watch it parade past.
David Hill is a Taranaki writer.