The News Where You Are by Catherine O'Flynn
Viking $39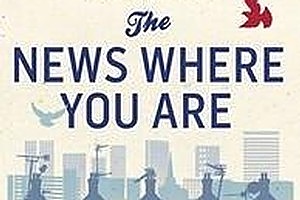 If you loved watching benign British drama in the 1970s, you'll love The News Where You Are. O'Flynn transports us to the picturesque English Midlands where we meet muddling regional television anchor, Frank Allcroft. Frank doesn't think much about the news or the future, preferring to spend his days repeating the same old stories he did last year, worrying if one of his father's buildings will be demolished, or attending the funeral of yet another lonely person he never met - ruminating on their pasts as well as his own.
Frank's backwards-looking life is abruptly brought "about face" by two deaths. First, there is the unexpected and "accidental" demise of his mentor and polar opposite, Phil Smethway.
And then there is the quiet passing of the "friendless" Michael Church. When Frank discovers that Phil knew Michael, he decides to try and put the puzzle of Michael's life back together - to not only work out who he was, but also to discover the connection he had to the larger-than-life Phil.
This is the moment when you expect stories to build a little tension and suspense, to grip the reader and ask them to hang on while the dots are intricately joined.
Sadly, this is not the case. The story never really gets out of first gear, becomes stifled by its own predictability, and, ultimately, meanders down all those nice leafy lanes to the clearly signposted finish line for club sandwiches and a nice cup of tea - hurrah!
Throughout the book O'Flynn continually reminds us that Frank needs to learn to live in the present. He should, therefore, heed the repeated advice of his daughter and follow his mother's example - the past happened and can't be changed and the future is not yet certain, so is not worth getting too concerned about. Ironically, this is exactly how you feel when you're reading the book.
The News Where You Are is a portrait of "proper" middle-class Englishness, where all the foibles, habits and eccentricities are recounted without a smidgeon of irony or hyperbole - a bit like watching Butterflies without the comedy or Coronation Street without the intrigue.
Steve Scott is an Auckland reviewer.