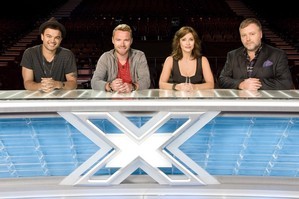 ... And so to the second big televised event of the week, the arrival of The X Factor on our TV screens.
Now, I haven't really kept up with the various imported Idols since we apparently ran out of stars-in-the-making or telegenic-people-to-say-if-they're-crap-or-not for our own version a few years back.
That expatriate Stan Walker won Australian Idol last year and appears to be sustaining a career on both sides of the Tasman is clearly a very good thing. He sings our national anthem really well too.
But with no Aussie Idol on Channel Ten over there this year, that has meant Channel Seven - and TV3 here - has spent big money on Simon Cowell's upgrade of the Idol format. Idol was the invention of that other English pop puppeteer Simon, Simon Fuller. The X Factor has now been unleashed into primetime on both sides of the Tasman and TV3 will be pleased with its first week performance, being its highest rating imported show.
Now, it would be all too easy to go into ageing music writer scold-mode and say it's all another affront to my sensibilities about how proper talent gets its voice heard, like it did in the good old days.
But after the first mammoth audition sessions of last week, I'm hooked. And, of course, the good old days for Aussie pop stars was when you did your time on Neighbours and someone "discovered" you and packed you off to a studio where pop boffins constructed shiny hit singles around your pleasant if forgettable voice.
Long-term results were never guaranteed. For every Kylie, there's been a Dannii. For every Delta, there's been a Jason, a Craig, and possibly three or four Waynes.
For every Natalie Imbruglia - she's the cosmetic company-enhanced rose between three thorns on The X Factor judging panel - there's been ... hang on, well, there's been a Natalie.
Ms Imbruglia sold six million copies of her late 90s first album on the back of hit single Torn and not a lot since. Not even with the help of last year's Want, a song co-written by Coldplay's Chris Martin and featuring a video which shows she's moved into a bigger, nicer place than that apartment she had on the Torn clip but, whoops, her clothes went missing in the shift.
Anyway, if the Aussie soaps proved both launching platform and diving board back in those good old days, here's why The X Factor is so good - its contestants may not be stars (yet) but they sure bring a soap opera with them.
The first week brought us a guy who had a bit of his tongue removed as part of his lymphatic cancer treatment.
He sang Lionel Richie's Hello. It started off a bit wonky but it ended up sounding sad, soulful, terrific. Even the resident offensive judge Kyle Sandilands couldn't make a lump-in-the-throat joke about him (whoops ... well someone had to) and he got through.
There was the gay guy from Brunei who saw his audition spot as a way to come out to his dad back home and he belted out a big show ballad which brought the house down.
There was the unemployed gal from nowheresville Queensland who lived in a shipping container out the back of her mum's place whose take on country tune Temporary Home was sweetly poignant.
And there were so many more - little YouTube-attention span soap operas most of them.
Some just turned up and sang, brilliantly. Like Chilean immigrant Rodrigo who belted out Queen's extravagant Somebody to Love as if his citizenship depended on it, despite appearing to weigh as much as Freddy Mercury's moustache.
With all those mini-dramas going on, you didn't even notice the fact that the show's disgraced host Matthew Newton had been expertly excised from the footage. His replacement is Home & Away star Luke Jacobz, who is now fronting the show's promos. Just hope when he turns up on the show himself the real soap star doesn't get in the way of all those singing soap stars. For they are the X Factor's very own X factor.
- TimeOut