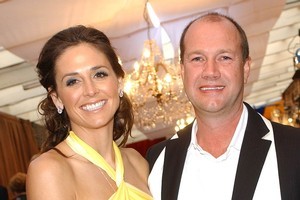 It seems living the life of Riley hasn't worn off for Mark Hotchin and his wife Amanda. The pair may have been wiped from the latest NBR Rich List, but they seem to have enough money to roll about in Rome.
The Hotchins have been Spy-ed sunning themselves by the pool of a five-star Italian resort in the heart of the capital with an entourage befitting royalty... or a hip-hop star.
Sources say the couple, their kids and their friends were joined at the pool by two elderly women (believed to be grandmothers) and two personal trainers - one male and one female.
Hotchin and his friend trained with the male beefcake, while his wife and her pal trained with the female instructor.
Living the life of luxury is nothing new for Hotchin. He flew his 26-year-old personal trainer Michael Legg to his rented Hawaiian hideaway at Kahala Beach Estate on the island of Oahu to play tennis, surf and improve his golf swing.
It's unclear whether Legg was part of the Rome crew.
Hotchin's spokesman Klaus Sorenson said he believed the Hotchins were "probably still in Europe".
Hotchin and his Hanover co-founder Eric Watson left investors out of pocket when $554 million of the company's assets were frozen. But it hasn't appeared to stop the extravagant lifestyle.
This year Hotchin sold his Parnell pad for about $4 million and currently has a $30 million Paritai Drive mansion on the market. It boasts a 12-car garage, seven bedrooms, car wash, wine cellar and present-wrapping room.
Meanwhile, Watson has been swanning around St Tropez and Sardinia. His Westbury Estate went to tender last week but it is unclear whether a sale was actually completed. Colliers agent Roger Seavill refused to comment when Spy phoned. He hung up.
The Kiwi TV star and the US reality shows
Before she became Mrs Dominic Bowden, Claire Robbie was an accomplished reporter on TV3's Nightline. Now she's hobnobbing in Los Angeles and making her way in the competitive world of television.
The striking brunette is producing MasterChef America with celebrity chef Gordon Ramsay. She is also producing hit TV show Dancing With the Stars with celebrities Audrina Partridge, Michael Bolten, Brandy, David Hasselhoff, Jennifer Grey and Jersey Shore's The Situation.
And if that wasn't enough, she also reports for Canada's CTV television network.
Bowden is no slouch in the work department either. He has a big television project coming up that we're sworn to secrecy on. Watch this space.
Wanted: Luxury digs for Beckhams, Bonos
We know U2 are heading this way, so it should come as no surprise that a realtor to the stars has apparently been hired to look for luxury accommodation for frontman Bono and his wife Ali Hewson. But an inside source tells me scouts are also looking for palatial digs for David and Victoria Beckham who are also heading this way for a family vacation.