Inexperience hasn't stopped Alison Wong from winning literary gold, writes Nicky Pellegrino.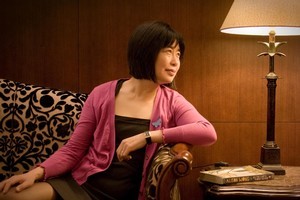 It's the morning after the NZ Post Book Awards and Alison Wong is feeling a little wan. "I didn't get much sleep," she tells me as we settle on a sofa at Auckland's Langham Hotel. "I was quite excited after the events last night. Actually I don't think it's all sunk in yet."
Wong never expected her debut novel, As The Earth Turns Silver, to make the shortlist for the fiction prize, let alone win it, and her acceptance speech at the gala awards dinner was short but emotionally charged, with the author too overwhelmed to speak after acknowledging her late father, Henry Wong.
Even now the Hawke's Bay-born poet's voice wobbles as she mentions him. "My father died very suddenly the year after I started on the book, so he never saw me achieve anything with my writing. He's the person this would have mattered to the most."
Family is important to Wong and in a way it's what sowed the seed for her first work of fiction. In 1996, she was at a reunion to celebrate the 100th anniversary of her paternal great-grandfather's arrival in New Zealand when she was shocked to learn her ancestor had been brutally murdered and the case never solved.
Later, as she learned more about attitudes to Chinese immigrants early last century, her plot slowly came together.
Set mostly in Wellington in the 1920s, As The Earth Turns Silver is a cross-cultural love story told against a backdrop of racial prejudice and violence. Yung, a Chinese fruiterer, falls for Katherine, a Pakeha widow, and the pair embark on a fraught affair.
The story is rigorously researched, incorporating real events and characters from the period, and illuminating a dark part of our history rarely touched on in fiction. The NZ Post judges praised it for bringing new themes to New Zealand fiction and "opening new windows on the development of our nation".
Says Wong: "It felt like it was a real risk when I started because I had no idea what the Chinese community would think ... The old Chinese who have been here a long time went through such hard times they didn't like to draw attention to themselves. I thought there might be people who still thought it best not to say anything. But so far everyone has been hugely supportive."
Later, while she's being photographed, Wong tells me she feels as though she's living life in reverse. She started out a shy, responsible child studying maths and going on to forge a career in the IT industry. Then, in her 30s, she threw it all away to follow her far less lucrative dream of writing poetry and fiction.
"I enjoyed my job," says Wong, now 49. "But my heart wasn't in it and it wasn't enough for me. I'm not one of those women with unlimited energy who can get up at 4am to write for a few hours then go to work. And my work was taking up so much of my energy."
It took 12 long years to complete As The Earth Turns Silver, and during that period Wong was supported by literary grants, the odd freelance job and also the Domestic Purposes Benefit, which at times kept her and son Jackson (now 13) going.
"I did worry about my son, but I never felt like what I was doing was mad," she says. "I guess I write because I feel I have to. It's a calling in a way. So even when I find it really difficult, I'm going to do it anyway."
Wong writes in what she describes as "a messy, random-seeming style", working on whatever sections of the story take her interest at the time and compiling them at the end. "I don't seem to have the capacity to write fast," she says. "As a poet I really have to wrench the words out of myself."
Now living in Geelong with her second husband, Kevin Yelverton, a minister in the Uniting Church, Wong aims to travel to New Zealand to research her next book, which will be set mostly here and will tell the story of three generations of a family.
"It's going to require extensive research as I think it's going to cover a much longer period. Although it's early days yet and I haven't written very much."
Wong laughs when I ask whether winning such a big prize for a first book will make tackling her second that much harder. "In some ways it won't make much difference because every book is a struggle," she says.
"When I was writing As The Earth Turns Silver, I had no idea if it would work, and even if no one had liked the book it would still have been worth it.
"So while in many ways it's wonderful to have won this award, I'd be writing regardless. And whether the next novel comes off well or not, I'll still do it."