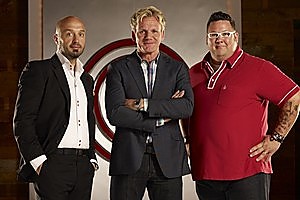 Is it just me, or are cooking shows breaking out like pimples on an adolescent face? Go channel-surfing and you're sure to stumble on one: perhaps Masterchef Australia, Brit series House Guest or New Zealand's own World Kitchen, to name but a few.
The latest cycle of Gordon Ramsay's Hell's Kitchen closed up shop this week, but we're hardly short of substitutes. Next week alone heralds three new cooking series.
Perhaps it's the hint of spring in the air, avocados in season or withdrawal symptoms from Ramsay's vein-popping histrionics. But fear not: he's somehow found the time to add another show, Masterchef USA, to his metastasising television empire.
Billed as "the most intense culinary competition on Earth", the US version of the international TV phenomenon - debuting on Prime Monday September 30 - follows the tried-and-true recipe of plucking out half-decent cooks and throwing them together to self-destruct at the feet of slave-drivers like Ramsay.
He heads an American Idol-style judging panel. Lardy chef Graham Elliot is the go-soft-on-'em Paula Abdul, snotty restaurateur Joe Bastianich is a wannabe Simon Powell, and Ramsay is, well, just Ramsay.
Of 100 hopefuls who trundle in to cook their signature dish, only 30 end up with a Masterchef contestant's apron. The carrot dangled is a cool US$4 million ($5.7 million), plus your own cookbook.
Only the best and worst, weirdest and funniest efforts make it to air. The beer-lover and his goopy mess "Beer Cheese Soup". The butter-obsessed bloke with his aptly-named "Funeral Potatoes". The girl who tries to flirt her way into an apron. The cocky guy who cries. Too many hammed-up, sappy stories. Too much voice-over.
But, like its predecessors, Masterchef USA plays into our eternal fascination with food and feeds our voyeurism. We get to eavesdrop on people's lives as camaraderie and conflict builds and disaster or triumph looms.
You'll find all that, too, in new Australian series My Kitchen Rules, launching on TV2 on Tuesday. In each episode, two Aussies who rate their home-cooking take their turn hosting four other duos and two top chefs for dinner. Representing their states are flatmates, sisters, best mates, and two couples.
The clock's ticking from the moment they drive off to buy the ingredients to the moment the guests arrive for a three-course meal. Although the judges award the most points, the other contestants fill out the rest of the scorecard. This just seems silly. Would you give your opponent a leg-up on the leaderboard? These guys don't.
Back home, we get a dose of competition-free cooking in TV One's Annabel Langbein: The Free Range Cook. In the first episode, our camera-friendly celebrity chef whipped up a portable dinner for friends down by a never-named lake.
Tiramisu aside, the dishes look like something I'd actually make, not just think about making. And the step-by-step instructions and practical tips make me think my efforts might even turn out edible.
Plenty to tempt foodies, then. But don't tune in if you're trying to shed a winter layer.
Masterchef USA, Prime Mondays, 8.35pm; My Kitchen Rules, TV2 Tuesdays, 7.30pm; Annabel Langbein: The Free Range Cook, TV One Saturdays, 7pm; Top Chef, TV3 Saturday, 7.30pm.
-Herald On Sunday / View