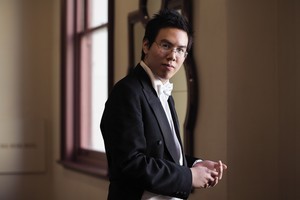 John Chen, who has been in Los Angeles for almost five years, does not display a trace of a transpacific burr in his voice, even when he is extolling this most maligned of American cities.
"The weather is fantastic," he says. "There's the beach and the desert as well as a vibrant art scene."
His doctor of musical arts studies at the University of Southern California has opened up new avenues for the pianist to explore. In an upcoming course on film music, he is looking forward to luxuriating in the classic scores of Miklos Rozsa, Franz Waxman and Hugo Friedhofer. A course in jazz improvisation, which has left him in awe of Chick Corea and Art Tatum, has helped him in his own playing.
"There's always a lot of jazz in the 20th century classical idiom," Chen says. "A better understanding of it makes me feel much more comfortable with Ravel and Gershwin."
Corea famously recorded Mozart back in the 1990s with his own jazz-tinged cadenzas and one wonders what Chen may come up with on Thursday when he plays the C Minor Concerto K 491 with the Auckland Philharmonia Orchestra.
"This concerto is dramatic, but not overly so," is Chen's assessment. "It has a lot of angst in the first and the third movement but, at the same time, it's full of that Mozartian grace and humour. There are so many different ways in which one could interpret the finale. It's so ambiguous. I've asked a lot of people and their responses always betray their own personality."
Just 10 days ago, Chen delivered Beethoven's Emperor concerto with the Sydney Symphony Orchestra on the eve of its upcoming European tour, conducted by Vladimir Ashkenazy.
Ashkenazy, it turns out, was something of a boyhood hero for the young pianist growing up as an Auckland teenager.
"He's one of my favourite pianists of all time," Chen says. "He has such remarkable insight and a musicianship that is deep yet always accessible to an audience."
When it came to sharing the stage with the Russian, Chen admits: "It was up to me to fit in with his idea of the piece, although his musicianship was such that I could completely trust what he had to say.
"I loved his balance of poise, energy and heroism."
At 24, Chen has worked with an extensive range of conductors. At first he resists naming favourites. Instead, his ideal is "someone who really reveres the music and treats it with respect", by which I assume some do not.
Finally, Oleg Caetani, who took the podium when Chen played Tchaikovsky's G major concerto with the APO three years ago, is chosen as one who "completely energised the orchestra in a way that showed his musical understanding".
Chen seems more at ease talking about his Saguaro Trio, which won first prize at Hamburg's international chamber music competition last September. Coming out on top with musicians such as Menahem Pressler on the judging panel is no mean feat. As well, they carried off a special Brahms prize.
When the Saguaro Trio tours the country next year, one can only hope that one of the composer's three piano trios will be on the programme.
What: Auckland Philharmonia Orchestra
Where and when: Auckland Town Hall, Thursday at 8pm