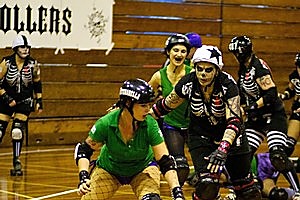 I'm in love with the look. It's femme glam slam - 1950s beatnik meets riot grrrl punk; like the Pitt St YMCA triple-booked Halloween conventions of westie bogans, horror comics and fans of Rizzo from Grease.
Joan Jett yells that she loves rock'n'roll. We're admiring women who've teamed cute red knee bows and Bettie Page fringes with ghoulish skull faces. Their names give drag queens a pun for their money: Skate the Muss, Witchslap, Candy Bandit, Pentakill and Lucy in Disguise. A worldwide name register ensures no double-ups.
From fishnets to retro roller skates to Jolly Roger entry stamps, this is no ordinary spectacle - this is roller derby. So yes, I've snuck in a sport on the arts pages, and it's no joke sport, either. Participants train around 10 hours a week; Fia Fasi Oe - Samoan for "do you want a hiding?" - is an ex-Army, ex-speed skater who does her press-ups on her knuckles. Last year, Bad Jelly the Bitch didn't let a dislocated shoulder stop her from finishing a jam.
Competition is fierce; the teams hiss at each other before matches. Last Saturday, Spar Kill and Pieces of Hate were expelled from the match when their snarling threatened to turn into a smash-up, and Pieces of Hate threw her helmet after Spar Kill's retreating back.
But the reason derby is rolling around the arts section is because, in addition to being serious athletes, the Pirate City Rollers league has more creative art direction than half the theatrical productions I've seen this year. Their tongue-in-cheek aesthetic is both eclectic and cohesive - the result of a DIY, democratic philosophy. Signs are written in gothic font, and the teams sit on benches supported by skulls and crossbones.
Pieces of Hate designed the Dead Wreckoning team outfits: the short skirts are printed with pelvic bones; through the rib cages on the muscle shirts, red hearts are visible. The Mascara Massacre team sport fashionable Derby Skinz - hot pants, in bright purple - and green singlets.
Each player individualises their uniform as cunningly as a Year 12 schoolgirl: Scheisse Minnelli (Express editor Hannah Jennings-Voykovich) wears yellow tights while Phloss-a-raptor - a burlesque performer off-rink - favours pink. Bruizilla's derby tartan kilt is the only skirt she ever wears. Derby is nothing if not an old-fashioned celebration of the thigh.
The underground style overflows on to the bleachers.
This is third-wave feminist multi-tasking: kicking ass while wearing eyeshadow, with everyone pitching in and partying together behind the scenes.
Pretty brutal and brutally hot.