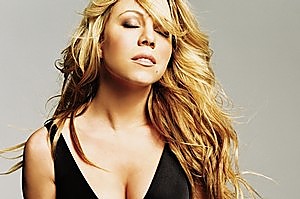 Is she or isn't she? While the gossip grapevine blooms and we talk in hushed tones about Mariah Carey's womb, don't look to the diva for any answers - she's well and truly keeping mum.
There's been some serious gum-flapping this week over whether Carey is with child. Her recent performance during a concert in Brazil reignited the rumour of an imminent family addition.
Take a look at these snaps here and here of Carey performing during the concert.
Gone are the voluptuous singer's trademark figure-hugging outfits, replaced by loose-fitting clobber to hide her bump.
Video: Mariah on stage in Brazil. Mamma Mimi?
But despite remaining quiet on the big P, Mimi did post a cryptic message to fans on Twitter, after her concert in Brazil last week.
"Seriously, I really do love it here, beautiful people inside and out!" she wrote. "Tonite was tuff 4 me 4 personal reasons, but U got me thru!L4L."
And just last week the 40-year-old star was also snapped sporting a loose fitting maxi dress from maternity clothing company, Pea in a Pod in Sao Paulo.
So while Carey plays coy about her pregnancy, her clothes are doing all the talking for her.
Her husband Nick Cannon, 29, has piped up about the reports, but refused to neither confirm nor deny if he is a father-to-be.
On his NYC radio show Monday, he said: "I've said it before and I'll say it time and time again - when my wife feels like talking about whatever she wants to talk about, you will hear it directly from her.
"We all know that it's extremely personal for a woman to deal with the idea of child birth. We know we are public figures, but that's something that you want to keep near and dear until you're 100 per cent certain."
Which, to be fair, is any parent-to-be's prerogative. But will that stop us gossiping? That's a negative, brother.
Reports suggest the star could be almost four months along, with sources telling website RadarOnline that the couple has already shared the news with their close friends.
A snitch said: "She definitely wanted to get pregnant. She's very excited. She wants to wait as close to full term as possible before going public with the news to her fans."
So what's the latest from Carey on the preggers talk? Speaking via her publicist, Cindi Berger, she tells PopEater.com that she's read all the coverage about her rumoured pregnancy and "appreciates everyone's well wishes."
"But she's superstitious," Berger adds. "When the time is right for her to say something, I'm sure she will."
Mimi has made no secret of wanting to start a family with Cannon. "Definitely, we want a family," she told In Touch magazine last year. "Yes, of course. It's at the forefront of our minds.
"We're very close. But we want to enjoy our first year together."
While Cannon joked about possible names for their first child. He said: "We're gonna do it like George Foreman. We're gonna name all of our kids Mariah no matter if they're boys or girls... Mariah No. 1, Boy Mariah, Man Mariah, Tall Mariah. It's gonna be a house full of people named Mariah."
Bonkers, but I wouldn't put it past Mimi!
You just know she'll pull a J-Lo and never actually officially announce she's up the duff - she'll wait until she's actually popped.
Good luck to them both.
Robbie goes Brokeback
Oh boys. Robbie Williams has reunited with frenemy Gary Barlow and gone all Brokeback Mountain on us in the video for their single Shame.
The track, a duet co-written by the pair, received its world premiere on BBC Radio 1 earlier today, and marks the first time they've worked together in 15 years
Shame is to feature on Robbie's forthcoming 39-song greatest hits set In And Out Of Consciousness - The Greatest Hits 1990 - 2010.
Check out the video below:
Scream queen
Anna Paquin will make a cameo appearance in Wes Craven's upcoming horror sequel Scream 4.
The newlywed and True Blood star will make a guest appearance in the flick, alongside actress Kristen Bell who has also joined the star-studded cast, according to USA Today.
Scream 4 is currently in production and shooting in Michigan, ahead of an expected April 2011 release.
Script details have been kept under wraps, but sources say Paquin's cameo will be similar to Drew Barrymore's in the first Scream movie.
She likes it hot
Fiery clotheshorse Naomi Campbell has her bodyguards carry her favourite hot sauce with them wherever she goes. Fact.
Campbell amazed onlookers with her spicy fetish while dining with her Russian fiancé Vladimir Doronin, actor Leonardo DiCaprio and his lover Bar Refaeli on the Italian island of Capri this week.
Diners spotted the stroppy supermodel summoning her fella's bodyguards to bring her the special condiment while she dined.
"She couldn't indulge in food until her boyfriend's bodyguard brought over her own salt and pepper shakers," an onlooker told the New York Post.
But Campbell's rep said: "It wasn't salt and pepper, it's her Jamaican hot sauce."
Ha, talk about raising the diva ante.
Mind you, what's more intriguing is her choice of dinner companion...DiCaprio, the man who starred in Blood Diamond. Oh, the irony! Especially given her recent grilling over whether she received more than just "dirty little stones" from former Liberian leader Charles Taylor.
Cruise crash
Heard the one about Tom Cruise being involved in another motorbike crash? So have we. And it's cobblers.
"The screen legend was treating teenage fans to a glimpse of his motorcycling skills when he lost control and crashed into a wall," reports Britain's Mirror
Cruise supposedly crashed the bike, which belonged to one of the salivating teens, and offered to pay for the damage. But "the starstruck teen asked the actor to sign the bike instead," claims the newspaper.
No location, no sources, no nothing. No deal. GossipCop has the final say on the silly rumour.
What the...?
Amy Winehouse plans to re-join the human race, but not yet. Meantime she's having a whale of a time on the crazy train and behaving like the adult child of alien invaders.
Check out these hilarious snaps of Wino taken this week as she supported her BFF Pete Doherty during a gig in London.
Blogger's Briefs
I saw this lot and thought of you...
* Lindsay Lohan and her mother offered $1m for radio show
* Harry plotter: Emma Watson is planning to take a break from acting
* Christina Applegate does David Letterman. Mind out of the gutter please
* Mad, bad, Mel Gibson to be re-interviewed by cops in domestic violence probe
* Heidi Montag's G-cups runneth over, wants her airbags reduced. Lovely. Have a lobotomy while you're at it.
* Kim Kardashian says she was just joking about dating the Biebs. Enough already. Put him down, love
* Madonna's kids have to make an appointment to see her. Diary strangely empty
* John Mayer and Jennifer Aniston 'not dating again', says source
That's all folks. Have a great weekend!
Blogger Bites Back
* Read more celebrity news and gossip from Myrddin Gwynedd here