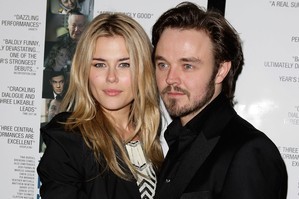 The troubled Underbelly star Matthew Newton is in the headlines again for all the wrong reasons, accused of assaulting his girlfriend and withdrawing from a high-profile TV talent quest show a week before it goes to air.
Newton, who spent a month in a private rehabilitation clinic in Melbourne this year, was due to host Channel Seven programme The X Factor, which premieres on Monday.
On Sunday night he withdrew from the series, citing medical advice.
Yesterday came the bombshell from his girlfriend, the actress Rachael Taylor, who claimed he had attacked her in the lobby of a luxury hotel in Rome.
The couple were on a weekend break in the Italian capital, with Newton due to fly on to Dublin to film segments of The X Factor.
In a statement, Taylor accused him of a series of unprovoked violent assaults, both in Australia and in Rome. She said she had applied for a restraining order against him and was considering laying assault charges.
In 2006, the actor - the son of Australian showbusiness couple Bert and Patti Newton - pleaded guilty to assaulting his then girlfriend, Brooke Satchwell, in what he called a one-off incident.
The conviction was later quashed after the judge was told he had a history of mental health problems, and his role in Underbelly - playing the violent criminal New Zealander Terry Clark - resurrected his career.
Seven - which surprised the industry by recruiting Newton as host of its multimillion-dollar show - announced he would be replaced by the Home and Away star Luke Jacobz.
As the producers, Fremantle Media, scrambled to re-edit, it was also revealed that Newton has been dropped by his manager, Titus Day.
According to the Sydney Morning Herald, Newton, 33, has been admitted to a Melbourne psychiatric facility.
Taylor, 26, who says she has "significant fears for her safety", has fled to Los Angeles.
In her statement, she said: "After much consideration and struggle, I have made this personal decision to send a clear public message that violence, threats, abuse and intimidation are not acceptable, and should be dealt with by the full capacity of the law."