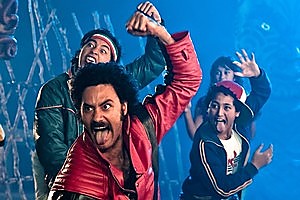 He may look puny, but Oscar nominated director Taika Waititi (Two Cars, One Night) will have to muscle up all his strength when he wakes at 5am for intense military-style training to raise money for the Heart Foundation.
Waititi is part of a celebrity team taking part in the Les Mills Charity Beatcamp. They will go up against 15 corporate teams in a month-long military boot camp programme that starts on August 30.
Team Waititi will also include TVNZ sports reporter Toni Street, Elemeno P front man Dave Gibson, Catherine Livingstone from The Apprentice, former Shorty St star Blair Strang, TV personality Mary Lambie and radio names Noelle McCarthy and Sela Alo.
Lambie is an old pro at celebrity fit camp. She took part in the 2008 star team alongside Miriama Smith, April Ieremia, Lana Coc-Kroft and Nerida Cortese. Last year, she also put her body on the line, raising money for breast cancer. Dubbed 'Boobcamp', Lambie joined Carol Hirschfeld, Madeleine Sami and Jaquie Brown.
This year, the celebs are up against hard-nosed corporate teams from the worlds of law, accounting and advertising. Will they cope? Will they win? Stay tuned.
Meanwhile, former prime minister Helen Clark will play guest of honour tonight at the opening of the Servilles Hair Academy on Queen St. Clark is a former client of hairdresser to the stars, Paul Serville, who was inducted into Australia's Hair Expo Hall of Fame earlier this year.
Clark is known to be very loyal to her friends, though my sources tell me she's been keeping a deliberate distance from former bestie Chris Carter since she's been back in the country.
It's a pity, really, because Carter needs all the support he can muster now he's ostracised from his party and sifting around his Te Atatu pad like Nigel No Mates. There's only so many massages he can book.
My sources in the 'Hive tell me Carter cancelled a planned holiday to Bali because he felt it was not a good look while he is on sick leave, which begs the question: how sick is he really if he figured that out?
Carter joins a growing list of politicians this year who are hustling for the top spot on the list of Most Embarrassing MPs. It should come as no surprise that Rodney Hide and Heather Roy are currently tied at number one.
-Herald Online