The Weed that Strings the Hangman's Bag by Alan Bradley
Orion, $38.99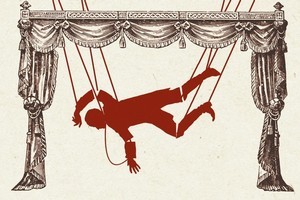 There is something utterly seductive about escaping into a Flavia de Luce story - they're the antidote to the harsh realities of modern life.
Precocious heroine, Flavia, is an 11-year-old amateur detective who pedals round the sleepy village of Bishop's Lacey on her trusty bicycle solving murders that have the local police flummoxed.
In the first book, The Sweetness At The Bottom Of The Pie, Flavia discovers a dead body in the cucumber patch of her family's crumbling mansion and must prove her rather dotty father isn't the killer.
This time, it's the dramatic death of a travelling puppeteer during a performance of Jack and the Beanstalk that tests Flavia's sleuthing skills. She pedals far and wide as she makes a link between the mystery death and an earlier village tragedy - the hanging of a small boy.
Set in the 1950s, the de Luce books are shamelessly nostalgic, harking back to an idealised version of England that's all sun-dappled lanes and grassy churchyards. It's impossible not to use words such as charming and delightful to describe them.
But although the first story was notable for its originality, this follow-up does feel repetitive at times. Flavia's hair-raising chemistry experiments, her passion for poisons, the teasing of her elder sisters, the hideous culinary creations of their cook Mrs Mullet - lots of old ground is covered.
There are also some anomalies, and some out of kilter and unlikely niggly bits (Flavia reads a copy of the Australian Women's Weekly in a London dental surgery, for instance) that are surely a result of Bradley being not English, but a Canadian, who's spent very little time in the country and based the stories on much of his imagination.
To be fair, part of the joy of Flavia's adventures is probably their predictability; they are the literary equivalent of comfort eating.
There is more meat to the mystery in this second book, plus a deeper sense of sadness and clues there will be trouble brewing in future Flavia books.
But essentially what Bradley is offering is a gentle, old-fashioned read.
You just have to sink into the story like a warm bath and enjoy his humour, his turn of phrase, and his wonderfully eccentric characters.