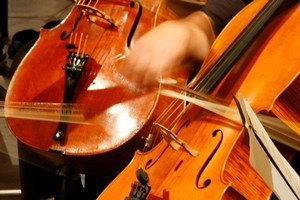 Few pieces steal as beguilingly upon the ear as Charles Ives' The Unanswered Question. This American classic from almost a century ago was an imaginative launch for Auckland Philharmonia Orchestra's Echoes of War concert.
Time seemed to stand still as Brent Grapes' off-stage trumpet wove through Ives' hushed string chorale, interspersed with acerbic woodwind outbursts that pre-empt the music of Messiaen by a few decades.
Conductor Marko Letonja coolly guided the musicians through to what the composer described as the work's final undisturbed solitude. Taking the solo spot of the evening, 23-year-old Andreas Brantelid illuminated Elgar's Cello Concerto with all the impetuousness and energy of youth.
And while the Danish cellist lingered over the opening cadenza and dashed through will-o'-the-wisp passagework, Letonja and his musicians imbued the lilting Moderato with a true Elgarian nobility.
The Adagio was as poignant as any, subtle in its dynamic swells and phrasing, while Brantelid positively teased his way into the final Allegro molto, with its often edgy and unpredictable mood-swings.
After the interval, it was a joy to revisit Ross Harris' Second Symphony, four years after its triumphant premiere. The fact the work was being recorded for CD release gave even more reason for rejoicing. Minor blemishes here and there did not detract from the potent partnership of poet Vincent O'Sullivan and composer Harris, especially when their stark saga of wartime sorrow was delivered with such emotional commitment by Madeleine Pierard.
The orchestra relished the Mahlerian marches and flurries Harris sets under and around the singer in the first movement, as well as the delirious dance of death in the third, leading to the tense account of the young man's execution.
The second movement, in which Pierard takes on the voice of her condemned lover, proved lyricism need not be irreconcilable with the conveying of intense sorrow.
When Pierard soared in the line, You could just about touch it, says my homesick soldier, against whispered string sonorities, one could not help but feel that Ives' eternal question was still with us.
* What: Auckland Philharmonia Orchestra
* Where: Auckland Town Hall
* When: Thursday