Seven days in the life of the actress and gospel singer.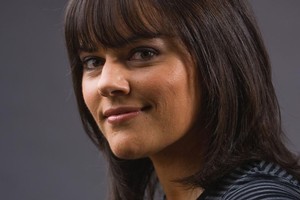 Friday night drinks?
Begin at mine, starting with a cocktail featuring Raspberry and Lemon Drop by 26000 Vodka, apple vodka, lemon juice, sugar syrup and crushed ice.
Where I'll be wearing my new:
Simple shift top that I whipped up, hot Italian hosiery, the Ego-Inflators (fold-over, black, Puss-In-Boots boots and jewels by Andrew Swann (swanns.co.nz).
And this weekend I'm planning on:
Not setting my alarm and then not doing much.
My favourite cafe is:
The Corner Cafe in Pt Chevalier. Excellent coffee and scones and staff that make you feel like family.
Saturday evening. If my dreams came true there would be a gig by:
Eva Cassidy, Joni Mitchell, India Arie, L.A. Mitchell, Roberta Flack, Billie Holiday, Joan As Policewoman, Florence Welsh and Cleo Laine with the APO.
On my stereo/headphones right now is:
Stuff from my random collection that I haven't listened to for years, especially classical music.
The books I can't put down are:
Whatever You Think, Think The Opposite by Paul Arden, The Alchemist by Paulo Coelho and La Bella Lingua by Dianne Hales.
The TV show I take the phone off the hook for:
Are you kidding me? Shortland Street.
The movie I've been dying to see is:
Inception (again, at Imax this time).
A non-cooking Monday night means takeaways from:
Handmade Burgers in Kingsland.
Or a splash-out Wednesday night restaurant:
It would have to be understated and Italian.
* Shortland St star Amanda Billing is part of the Jubilation Gospel choir which is performing at the Montecristo Room on Saturday night.