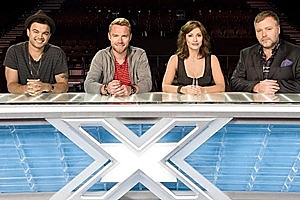 TV3 is hoping to bolster its end-of-week entertainment viewing when British talent show The X Factor screens in this part of the world for the first time.
Created by Simon Cowell, the show is most famous for launching the career of British diva Leona Lewis. The Australian version also makes its way to New Zealand in September.
Australia's first show premieres on August 30, with New Zealand screening it a few days later on Thursday, September 2, at 7.30pm (with a 2 1/2-hour special), and the Friday night show starts at 8.30pm after NZ's Next Top Model. It's hosted by Matthew Newton, probably best-known here for portraying Kiwi drug lord Terry Clark in Underbelly: The Mr Asia Story, who is no stranger to talent shows since he's the son of Australian entertainment personality Bert.
The judging panel is made up of British-based Australian singer Natalie Imbruglia, Australian Idol winner Guy Sebastian, Irish singer, heart-throb, and former Boyzone leader Ronan Keating, and scandalous Sydney shock jock Kyle Sandilands.
The show is open to singers over the age of 16 - either solo performers or groups - and once they are through to the final audition they are split into categories (boys under 25, girls under 25, over 25s, and groups).
However, what makes it different from other talent shows is the process the contestants go through.
The four judges are given a category each and take on the job of mentoring the singers at the bootcamp stage, where they are put through their paces to see if they can take on different song genres and assess whether they have the X-factor. Then it's on to the judges' house stage where each judge picks three acts to represent them in the live shows each week.
Keating was so keen to do the show he decided to relocate to Australia for an extended period - and it helps that some of his favourite artists are from the land Downunder.
"Kylie, Natalie, Delta and INXS. I grew up listening to INXS. Michael Hutchence was part of my make-up as an artist, and I always admired [his] style and talent. Kylie is dedicated, hardworking and a very free spirit - all the qualities you need to be a star," he says.
And he's confident they will find someone with a similar X-factor.
"I believe we can not only find the best star in Australia but an international star."
- TimeOut