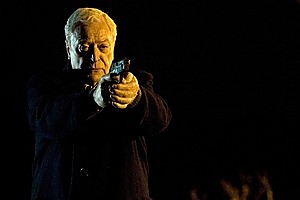 Rating: 3/5
Verdict: A nasty piece of work
Cynical, violent, foul-mouthed and dark-hearted, Michael Caine's new movie also has the effrontery to profess some sort of social agenda.
It's set in the badlands of London's southeast, among the apartment-block slums the English euphemistically call housing estates. Here the title character, an ex-Royal Marine, struggles through days blighted by emphysema and the recent death of his wife. His only pleasures in life are meeting his pal Len (Bradley) for a pint and a game of chess, which means wading through swarms of drugged-addled white thugs who'll knife you for your watch - or for fun.
When Len falls prey to these hoods the cops, personified by DI Frampton (Mortimer), get involved but you don't need me to tell you how useless they are and I don't even have to whisper "death wish" for you to know what's going to happen next. We're invited to be thrilled, but when Harry later says of his opponents that "to them out there, it's just entertainment", it's hard not to feel he's talking about us.
Mortimer's remarkably wet performance is all of a piece with the manipulative dishonesty of the whole enterprise. In tilting the playing field against the forces of law and order, it makes vigilantism not just dramatically logical but desirable, even decent. What purports to be social commentary is actually an inflammatory attempt at catharsis for the "good" people who are meant to be Brown's constituency.
Its self-justification even extends to introducing a cheating change of perspective - we get to see things that Harry can't possibly know - so as to lure us onto his side. And it trots out all the old cliches like flat-footed superiors and top brass without a clue.
All that said, it's a film of masterful technique and impressive style: the visual palette is all icy blues and steely greys and the hallucinatory sequence in which Harry is drawn into the underworld might have been designed by Hieronymus Bosch.
Meanwhile Caine is ... well, Caine really, with a nice nod in the direction of the services. That other Harry, the dirty one, asked "Well, do ya [feel lucky], punk?"; but Harry Brown speaks, more in sorrow than in anger, when he chides an opponent whose gun has jammed, "You failed to maintain your weapon, son".
Cast: Michael Caine, Emily Mortimer, David Bradley
Director: Daniel Barber
Running time: 104 mins
Rating: R18 (violence, offensive language, drug use, sex scenes)
-TimeOut