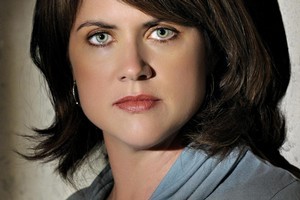 When United States thriller writer Lisa Gardner shared the plans for her latest novel with her husband he turned to her and said: "Couldn't you do something less depressing, like go to a morgue again?"
He had a point. Research for Gardner's new book, Live To Tell (Orion, $38.99) involved time spent in a unit dedicated to the care of emotionally disturbed children and the plot of the story is centred on what she learned there.
"My goal in Live To Tell was to capture what it would be like having a mentally ill child - a good kid who is capable of doing bad things," says New Hampshire-based Gardner. "It was a chance to write about a scenario that exists in every community."
A New York Times best-selling author and mother of one, Gardner volunteers with an agency that helps special-needs children and had already come across parents struggling with issues such as those she describes so graphically in the novel.
"We tend to think kids who do bad things have bad parents," she says. "But often the opposite is true. These parents are in the trenches battling to keep their kids sane. They care, they have resources but still that's not enough. How do you help the child you love who is hearing voices telling him to kill you?"
Live To Tell is the story of two women - the mother of a disturbed child and a nurse who works in a locked kid's psych ward. When people start getting murdered, detective DD Warren is called in to investigate.
Gardner says questioning the nature of evil is what drives her as a crime writer. "Often we go to the easy answer - it's a psychopath who doesn't care about anyone. But in fact, it's a question that has many answers and in each of my novels I deal with one. This is a story that's overdue in a way as one of the faces of evil is mental illness."
The children's unit she visited turned out to be less daunting than she'd feared. "Of all the research I've done this was the most intimidating to me," says the author, who has spent time in maximum security prisons and with FBI agents in pursuit of background for her stories.
"No one wants to see children suffer. But I found the kids playing, banging on drums, doing artwork. Then I noticed they never stop moving and all their activities are planned around that need for movement. They do things like roll and unroll their clothes, fidgeting, little ticks."
Given the sobering nature of her material, Gardner has done a masterful novel of producing a page-turner of a crime novel. The author, who won the International Thriller Writers Award for her previous book, The Neighbour, shapes strong characters, keeps readers guessing and writes with humour, compassion and hope.
"I'm not going to dark places because I like to depress myself," she says.
"What I love about writing thrillers is to show the problem-solving. I'm looking for an answer."
Finding answers, she says, is the enduring appeal of writing and reading suspense novels. "When you get those big attention-grabbing real-life cases, people follow them obsessively because they want to know what went wrong. But you never really find out. Some of the fun of being a suspense writer is being able to give the answers. You control the pieces of the puzzle."
Gardner began writing at 17 when she penned a romance novel that was published under a pseudonym. By day she worked as a management consultant; by night she wrote about love. Thirteen romance novels later, she switched to thrillers and her career really took off.
"One of the advantages of having started with romance is that I understand the importance of likeable characters," she says. "Readers need to care about 'who' before they care about 'what'. And I still always have relationships in my stories."
Gardner has since accumulated thousands of fans and runs a sweepstake for them on her website (lisagardner.com). Called Kill A Friend, Maim a Mate, readers get to nominate someone to be killed in her next book. "So far it's been good clean fun," she says. "Some people kill a family member, some themselves, I don't judge. Gardner has already written next year's thriller. In it DD Warren will investigate the case of a policewoman who claims she killed her husband in self defence. However, here's the kicker - before the husband's body was discovered it was frozen.
Gardner chuckles at the very thought of it. "A forensic psychologist told me I had the most twisted mind of anyone she'd met," she says. "I took that as a compliment."