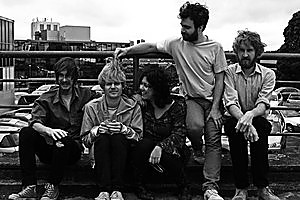 Rating: 4/5
Verdict: Debut from NZ indie pop supergroup is weird but it works
The mostly bearded, and all-out eccentric Kiwi indie pop supergroup Barb - made up of Liam Finn, Connan Mockasin, and Lawrence Arabia, along with mates, drummer Seamus Ebbs and singer EJ Barnes - have come up with a strange little album.
Hardly surprising really given their own unique take on pop music. But for all its peculiarities, there's an overwhelming charm to songs like Alcoholic Darling, with its rustic Beck shuffle, rollicking baroque pop mood, and the great opening line "Always finding ways to get higher", and the spectral psychedelic groove of Martin XII.
The individuals' own musical stamps are there: Finn is dreamy and intoxicating on the sweet and swooning piano refrain Time To Contemplate; Mockasin gets his groove on with that brilliantly weedy voice of his on Nile; and Arabia is in brooding geek chic mode on Martin XII.
But Barb also works as a whole because they share the same songwriting pleasures of creating distinct, off-beat, and catchy songs. It moves from the fun - some might say fruity - madness of Beatman (a rowdy anomaly on the album), to the pensive pop of Looking Out Through Barb's Eyes, and first single Leo - a 4-year-old's ode to actor Leonardo DiCaprio - is just plain weird.
Yes, sometimes like on Not A Bird, it does sound like they trotted it out in a jiffy, with its carefree beat, random electronic noises, and a general moochness to it. But it works, in its own deadbeat way.
-TimeOut