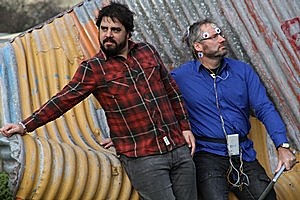 The bearded guys on current affairs comedy show 7Days have been elevated to a prime-time slot for a one-off, hour-long episode. Jeremy Corbett and Ben Hurley are the latest roguish duo to embark on a televised road-trip in a show that is supposed to help save lives.
The special is sponsored by the New Zealand Transport Authority, who wanted to spread a message that would prevent Kiwis getting behind the wheel when tired. "We are really fortunate they didn't ask us to stand up and preach, we just have fun for an hour with a cursory nod to that message," Corbett explains.
Shot over nine days, largely without a script, the special was directed by Jason Stutter, whose debut feature Predicament is soon to hit cinemas after local film festival screenings.
Corbett says he, Stutter and Hurley decided the show would work best if the leads were playing heightened versions of themselves.
The fictional Jeremy Corbett is no longer a breakfast radio host and part-time panel show presenter, but a computer game-obsessed loner who thinks he's the most popular and funniest comedian on and off the television.
"The funny thing is, I thought I was playing a version of myself, kind of a nerdy, geeky version but everyone I have spoken to says 'nah, that sounds like you mate'," Corbett says.
Meanwhile, the fictional Ben Hurley is no longer one of Auckland's celebrity speakers who secures glitzy gigs like a certain music awards ceremony, but one of the newest comedians on the block - he's egocentric and popular but broke.
The funnymen embark on a pie-fuelled road-trip along the famous route from Auckland "all the way to Invercargill". It's kind of like Goodbye Pork Pie but in a brand new BMW.
"It was really cool, man. When you haven't driven one for a while you forget how awesome a new car is. It was brand new, all leather inside, the only draw back was Ben in the back and the smell of pies," Corbett says.
Corbett is in the car because his wife Megan (played by his real-life wife) has encouraged him to look at a different career path after a string of failed stand-up gigs. He's landed a gig as a presenter for a TV science documentary that requires him to drive the length of the country.
It sounds great, but Corbett has to overcome two rather awkward hurdles: he must wear an obtrusive sleep-monitoring device for the entire journey and must also convince Hurley to come along for the ride.
Hurley is reluctant at first, but is swayed by his manager's offer to support legendary Kiwi comedian John Clarke's gig, which just happens to be in Invercargill. A string of real and fictional characters crop up along the way, including a hair-obsessed Simon Barnett and Mayor Tim Shadbolt.
* Ben and Jeremy's Big Road Trip screens on Monday at 7.30pm on TV3.
- TimeOut