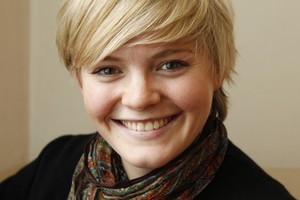 MUSIC
Canadian supergroup Broken Social Scene are playing a show at the King's Arms tomorrow night. After nearly a decade together but about five years off the radar, the collective released Forgiveness Rock Record in May this year. They promise a wild show moving between rock, folk and a ramshackle orchestral jam session - the last time they were here they played for more than two hours. Meanwhile Shihad will treat fans to a song-by-song performance of their album Killjoy at the Powerstation on Friday, followed by The General Electric on Saturday. Young Sid is also performing at Forge 2 in Papakura on Saturday night. He's joined by special guests Devolo, Dei Hamo and Sir T. This is your last chance to see him before he takes on the United States.
TV
I know I'm not the only one who has drawn a big circle in a thick marker pen around New Zealand's Next Top Model which starts tomorrow night.
Young girls with small waists and big dreams of gracing magazine covers in designer threads - do they have what it takes to be our next Rachel? Speaking of, Rachel Hunter appears in TV2's film 10 Things I hate About You on Sunday night. Check out two new series starting on Maori Television this week. October 15 tracks the Tuhoe raids and The Nutters Club gets people talking about a rather taboo subject that affects almost half of New Zealand's population - mental illness.
MOVIES
Sam Neill stars in Skin, a South African true-story drama set in the 1950s, which opens in cinemas today. The film traces the story of Sandra Laing, a dark-skinned, curly haired child born to Afrikaners who were unaware of the possibility of an African gene in their distant past. Her parents lovingly brought her up as their "white" daughter, which was fine until the State officials classified her as "coloured" and rejected her from a whites-only school. Sophie Okonedo (Hotel Rwanda) plays Sandra and Neill plays her father. Soul Kitchen, also out today, is a comedy set in Hamburg, Germany that won two awards at the Venice film festival. And this week also sees event cinemas resurrect some old films - Disney's Beauty and the Beast for the girls and Top Gun for the boys.
OR...
Grease is still the word, and all the full skirts, white sneakers and hair product of the 1978 film are back on the stage as a fresh production hits the Civic tonight. The producer Paul Nicholas once played Danny himself, taking over from Richard Gere in the first London production, so he is big on the details - especially the casting of the lead characters. This Sandy and Danny are twenty-somethings from South Africa who have worked hard to hit the notes and nail the moves.
- TimeOut