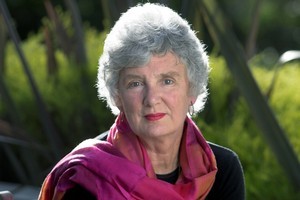 Hairy Maclary turns 27 this year, but the irascible little dog from Donaldson's Dairy who's been loved by generations of kids isn't showing any signs of growing older or wiser.
"He's a bit grey of whisker but he's still going," laughs his Tauranga-based creator, Lynley Dodd, who, at 69, is still going strong herself.
"I can't retire," she says. "Hairy Maclary won't let me. There have been times when I've thought it would be nice to put my feet up, but things have hotted up instead of slowing down. There's so much happening."
This week in Edinburgh, a Hairy Maclary And Friends children's show is opening as part of the famous Fringe Festival, although sadly Dodd's husband has been unwell so she won't be flying over to attend.
There's also an iPad application due out any minute voiced by former Dr Who star David Tennant, and Dodd is pretty sure the books are about to be translated into Korean.
She admits she has to pinch herself sometimes when she thinks how successful her small, scruffy creation has become.
"Hairy is the star doing the amazing things out in the world," she says. "I just hang on to his coat-tails."
When Dodd produced the first Hairy Maclary book in 1983, she had no plans for more. "The idea of a series hadn't come into my head," she says. "It was only that the publisher thought there might be some more mileage in it."
Since then, children may have changed and found other, more sophisticated things to occupy them, but the simple adventures of Hairy, Schnitzel von Krumm, Hercules Morse, etc continue to enthral.
Dodd's office is filled with the letters that pour in from fans around the world. "It's terribly untidy. I've never seen so much paper in my life," she says. "But I get a huge amount of pleasure from the letters. It's the lovely feedback that keeps me going, I think."
She believes Hairy has been such a widespread success because he's universal - a dog can go anywhere and fit into anybody's landscape. But Dodd is careful to sneak home-grown details into her illustrations - our letterboxes, for instance, or plants we'll recognise.
"One overseas publisher was concerned about a passionfruit vine that Schnitzel von Krumm was digging next to and wanted me to make it a telegraph pole," she says. "But I couldn't of course because they're set in concrete and no self-respecting dog would dig next to one."
As a teenager, Dodd had a dog that was the original Schnitzel, but since then she's owned only cats. "Kids are devastated when I tell them that," she admits. "But I've always been a keen observer of dogs. Animals in general fascinate me."
The amount of work that goes into each of Dodd's stories is incredible. To get the rhythm and flow of the words exactly right, she does up to 25 drafts of every text.
"I've always said the fewer the words, the harder the job. With picture books, you've got to have every word successful. And it's a matter of pride. I wouldn't like to do something that wasn't good." Dodd is equally painstaking about the illustrations, making up an entire draft of the book before starting on the final artwork. "I never find it easy and I'm always terrified I'm not going to succeed at what I'm trying to do," she says. "But I think that's a good thing. It wouldn't pay to be complacent."
It can take a year to produce a book and so far there have been 19 in the Hairy Maclary And Friends series, and 10 specifically about Hairy. Dodd admits it's daunting having to come up with fresh ideas, but sometimes she'll find inspiration in the most unlikely places - a pair of her knickers falling off the towel rail and landing on her Burmese cat's head, for instance.
"Instead of moving, she sat there looking idiotic and I screamed with laughter and grabbed my pen because I know that kind of image can be useful," says Dodd.
The Slinky Malinki book she's currently working on is based on her cat's behaviour but, because life has been so busy, Dodd is running late with it. In the meantime, Puffin has released Hairy Maclary, Shoo in paperback for the first time and re-released Hairy Maclary, Sit.
Dodd's two children grew up with Hairy Maclary and now her grandchildren are enjoying his adventures. The books have crossed the generations in thousands of other families in exactly the same way.
"You've no idea how old that makes me feel, but it's lovely and satisfying to feel you've been part of a family's conversation," says Dodd. "And I love it when six-foot, 19-year-old blokes come up to me at book signings and tell me my books were their favourites."