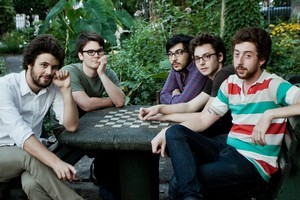 All hail synth power - and psychedelic electro pop act Passion Pit sure know how to harness it on songs like break-through hit The Reeling from last year.
With it's sonic, surging New Orderesque synth, that gives way to the spectral groove and sing-a-long "oh nooo" chorus, it's tonight's first big party starter.
This is the Massachusetts' quintet's triumphant return to New Zealand - en route to Australia's Splendour In the Grass festival - following a riotous Big Day Out set in January.
Back then, says 23-year-old singer, songwriter, and mad musical leader of the band, Michael Angelakos, they had a few technical difficulties.
But there are no problems tonight at a sold out Powerstation as they whip through a 75-minute set taking in almost all of last year's debut album, Manners, a few tunes off debut EP Chunk of Change, and a funereal electro pop version of the Cranberries' Dreams in the encore.
The crowd are into it. There are lots of teens and 20-something kids (and a few grown up ones), many of them are sucking on lollipops (who knows, may be it's the new smoking?), the majority of the girls are dressed up to the nines, and best of all, the entire room leaps with their hands in the air at key moments, like during the all-in school yard chant of Little Secrets.
While Better Things is a little Hanson-like with it's Mmmbop-style snap, crackle and bounce, there's a nicely timed meandering mid set interlude with To Kingdom Come, and the incessantly sweet and lovely Let Your Love Grow Tall.
They're a funny band. For starters Angelakos's part man, part machine voice has a synthetic and piercing shrillness to it, yet it's captivating. And the music is almost irritating, but somehow catchy and irresistible as it squawks, bops, and pulses along. They're also clever, and while their music is unashamedly 80s inspired, the instrumentation is vast, with three synthesizers, drums, percussion, guitars, and the bass player playing his guitar, shakers, and something that looks like a space shuttle control panel. And they attack the songs with the celebratory vigour of a band like New York crazies Battles, or our own Mint Chicks.
Speaking of our own, Kids of 88 got the place jumping first up with a cocky and fun set of swaggering new wave pop made up of songs off up coming debut Sugarpills, including crowd pleaser My House.
But it was the Americans who turned the Powerstation into a stinking hot pit with the exotic bent and twisted finale of Sleepyhead, which, if anything, they could have wigged-out on for a lot longer - because we would have stuck around.