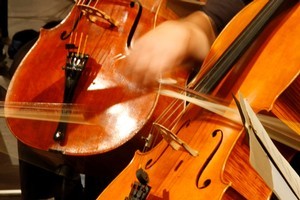 Auckland Philharmonia Orchestra farewelled Vienna with affection in its final Splendour concert, and what more joyous celebration of the city's musical heart could there be than Schubert's Unfinished Symphony?
So much of Schubert's music seems inextricably linked to this most pleasure-bent of cities. He dealt out the sort of tunes easily zithered in coffee houses. When the APO cellos had their big theme, its lilt made you realise that, within a few years, Vienna would be captivated by the Strauss waltz.
Yet conductor Eckehard Stier cast a sturdy and sympathetic symphonic structure around the exemplary playing, especially in the gently nuanced Andante.
The six movements of Mahler's Das Lied von der Erde, drawn mostly from ancient Chinese poetry, balance the composer's affirmation of the world and its joys with his own presentiments of mortality.
Stuart Skelton threw himself into the unabashed hedonism of the opening song - so much so one could almost imagine a goblet in his hand. And, just occasionally, one also had to imagine what note was being sung, thanks to the orchestra's spirited response to Mahler's all-engulfing orchestral surges.
This Australian tenor had style, right down to some throwaway Sprechstimme. His later contributions were even more impressive, particularly a lightly sketched Von der Jugend against an orchestra making the most of Mahler's exotic balance of East and West.
The other soloist, Liane Keegan, returning from Berlin Opera for this and two major Australian engagements, offered Mahlerian singing of the first order.
Keegan effortlessly countered the cool autumnal ambience of Der Einsame im herbst with the warmth and intensity of a Ferrier.
It was the mezzo who had the final song, the great Der Abschied, a piece so heartrending that the German conductor Bruno Walter famously worried whether it might drive people to make an end of themselves.
Sorrow was poignantly caught, but there was also an affirmation of the spirit, inevitable in a rendition charged on so many levels. And perhaps ecstasies that Stier inspired from his musicians played some part in giving Keegan's closing repetitions of "ewig" (ever) an almost consolatory power.
What: Auckland Philharmonia Orchestra
Where: Auckland Town Hall
When: Thursday