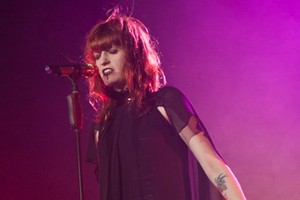 Who: Florence and the Machine
Where and when: Trusts Stadium, Henderson, Thursday night.
Reviewer: Jacqueline Smith
It wasn't very long ago that Florence and her pounding machine turned the rain to dust on a balmy February evening down at Britomart. There she was, shimmering in the open air, as ethereal as a woodland creature but with the bellow of a jungle king - a mysteriously enchanting red-headed Brit who had burst out of nowhere with a debut album only six months earlier.
On Thursday night Florence Welch and her five-piece machine returned as one of several bands performing Auckland side shows on their way to Australia's Splendour in the Grass festival. And this time she was faced with the rather difficult task of weaving the same magic on a few thousand excitable girls in a cold, echoey stadium.
Fortunately wee Florence didn't need to summon the weather to please this crowd. They had been listening to her 2009 album Lungs long enough to learn all the words to its 13 songs, and they wanted to pelt them out with her.
Opening with the heart-thumper Drumming Song, Welch ran through almost all her fans' favourites, and gradually her mythical costumes, mournful yet irradiant voice and powerful band transformed the place. "We are too young to die" she cried as emotion bounced off the walls during Between Two Lungs - yes we are, thought her audience as they threw their heads back and clutched the air in their fists.
Her voice, and the mood, reached a crescendo during Cosmic Love when icy harp melodies combined with mighty drums, a flickering night-sky set and Welch, dressed as a moth, spinning like a little girl in a magic box. Most theatrical.
Fans were also treated to Strangeness and Charm, a song from her upcoming album, that featured more bass-heavy machine and Welch shrieking like banshee.
Welch forced her audience to wait until the encore for her most poppy single Dog Days Are Over. It was an epic finale that had the whole crowd bouncing in unison, and that will ensure that this performance, like her last, will be etched in fans' memories forever.