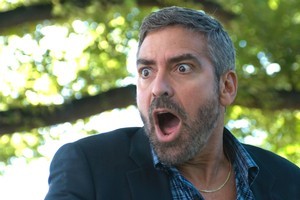 George Clooney's model ladylove Elisabetta Canalis has been implicated in a sex and cocaine scandal involving two Milan-based nightclubs, celebrities and prostitution.
Canalis, who is widely-rumoured to be tying the knot with ladies' man Clooney, is embroiled in the scandal after a witness claimed she saw Canalis doing cocaine in one of the nightclubs in 2007.
Italian newspaper Corriere della Sera (one of Italy's most reputable dailies), claims Karima Menad, a 26-year-old Parisian model-turned-escort, has told Italian prosecutors she saw numerous models and celebs taking cocaine at one of the venues, among them former showgirl Canalis.
"I used cocaine along with other people, among whom was Elisabetta Canalis," Menad said.
The newspaper says an investigation was launched in 2008 into two nightclubs (Hollywood and The Club) in Milan, following allegations of an alleged prostitution ring, fuelled by booze and drugs.
Menad's testimony goes back to 2008, a year before she hooked up with Clooney.
"We were in The Club and it was December 2007," Menad adds. "We had been at a party of some famous, rich celebrity whose name I cannot remember. I don't remember who brought the drugs but we all took it."
Menad's evidence was used by prosecutors to shut down both nightclubs and place five people under house arrest.
The chief prosecutor in the case, Frank Di Maio, says Menad was one of many ladies employed to 'entertain' The Club's wealthy clientele in a VIP room.
"Their job was to encourage these customers to drink alcohol as to increase the table's bill, followed up by sex off premises," prosecutor Di Maio said.
"They were often given cocaine for free by those who want to sit at a table of famous people ... they want the visibility that comes from being seated at a central table, and to be seen with models, or celebrities from fashion, entertainment and sport."
No word as yet from either of their reps. But we do have this retro drug-use-denial from Canalis in Vanity Fair back in 2008
"Obviously whoever is putting these rumours out there succeeded in his intention to discredit me," she said during the interview.
"I've never used any drug. I've never even smoked weed. But in the entertainment business, if you ignore the phone call of some powerful character you will have to pay for it and nothing works better than a mean gossip."
Oh, the scandal!
Canalis is currently holidaying with Clooney at his Italian villa; amid rumours they are about to tie the knot. Given the scandal, I'd hazard a guess Clooney won't be rushing to put a ring on her finger.
Question is, will he stand by her?
Things that make you go...F%$#@&*(!!
It looks like history's repeating itself...
We've all heard the rib-tickling rumours about a mooted sequel to James Cameron's Titanic. Well, it's no longer just a joke - it's a big fat, sinking reality.
Introducing the trailer for Titanic II, courtesy of those wonderful, creatively-starved, peeps over at The Asylum - the same studio responsible for celluloid giants such as Snakes on a Train and War of the Worlds 2: The Next Wave.

Titanic II - Trailer
Uploaded by dreadcentral. - Classic TV and last night's shows, online.
What an absolute sinker. But it's a bit like Jedward or Judge Judy, you just can't help looking at it.
Mercifully, the stinker of a sequel won't be hitting the silver screen; it's a straight-to-DVD jobbie.
Mommy Mia!
Talent juggernauts Meryl Streep and Tina Fey are to star as mother and daughter in upcoming comedy Mommy & Me.
The flick, which will be directed by none other than Stanley Tucci, is a definite GO! according to The Hollywood Reporter, with Sony backing the project.
Plot details are scant, but it's likely to focus on a thorny relationship between mother and daughter. No word on whether Tucci will also feature in the film.
What a killer combo. I'm in!
Lovin' rehab
Shamed actor Chris Klein has decided to extend his stay in rehab.
The American Pie star's been licking his wounds at the Cirque Lodge in Utah for the past month following his DUI arrest in June.
"Chris, along with his support team, has decided to extend his treatment. He is doing fantastic and is optimistic about his future. He thanks everyone for their continued support," his rep Jaime Primak says.
Britney's stink
Pop tartlet Britney Spears is pimping yet another fragrance - her ninth, apparently!
Brit Brit tweeted the artwork for the stink's promotional campaign to her adoring fans, saying: "Just got the imaging for my new fragrance Radiance and thought I'd share it with all my tweethearts."
Cop an eyeful of the heavily-photoshopped ad here
No, no, no to GaGa la la!
Amy Winehouse will not be teaming up with Lady Gaga for a musical collaboration, despite several reports to the contrary.
The National Enquirer claimed GaGa had reached out to Wino with the offer of helping her make a comeback.
"It's been agreed that GaGa will go to London in September just before her European tour to help Winehouse with the new album," a snitch told the mag.
Cobblers, says Wino's rep, "not true at all".
'Crazy-hot baby'
Newlyweds Orlando Bloom and Miranda Kerr are going to have a "crazy-hot baby" together, according to Kerr's BFF, Jessica White.
Reports surfaced yesterday that the couple are expecting their first bambino - Kerr's three months gone, I hear.
White told OK! magazine: "She's preggos! I'm very excited. I'm happy for her. Love is in the air, and good for her.
"I think she and Orlando make a really beautiful couple and they've been together for a while, so I wish them all the best. And it's going to be a crazy-hot baby."
Hot, yes. Not sure about the crazy part, babe.
Blogger's Briefs
I saw this lot and thought of you...
* Zac Efron does Jimmy Kimmel, admits he went to a strip joint. Bothered? Neither am I.
* Silly tabloid magazine tries to split Brangelina apart by publishing snaps of Jolie in a series of compromising positions - we're talking nudie, S&M snaps here. Andrew Morton, you are a weasel, sir.
* Eye-popping movie poster for schlock horror flick Saw 3D debuts
* Glamour model and Mensa member Katie Price (aka Jordan) causes a stink, thinks kids with divorced parents are "lucky" *scratches head* Aye, she's bonkers.
* Paris Hilton says she's very 'child-like' No comment. Also denies cash-for-romance with Malaysian billionaire playboy claims
* Post-rehab Tara Reid is a hot mess. Oh honey, what is it you do again?
* Russell Brand in panty shocker: Funnyman cavorts in hideous Y-fronts on set of Arthur re-make. Enjoy your lunch!
* Snapped: Cheryl Cole is back on her feet after Malaria scare
* PETA want to harpoon Janet Jackson over her new ad
* Check out this rather cool Inception-Toy Story 3 mash-up
And finally...
Introducing this genius spoof Welsh parody of hit track Empire State of Mind. Seriously, I'm in LOVE. Cariad, I tell you!
Blogger Bites Back
P.S. The end is nigh...
I'd be absolutely honoured if you'd consider voting for this blog again in the Net Guide Awards' Best Blog Site category. Voting closes 30 July.
* Read more celebrity news and gossip from Myrddin Gwynedd here