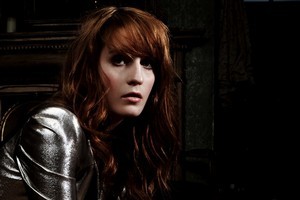 Field Day at East London's Victoria Park this weekend is the festival known for spotting the hottest new bands. Last year the xx, the band of the moment, who were Mercury nominated last week, played to 500 people on one of its smallest stages. An unknown Florence and the Machine performed at its first festival in 2007 for a couple of hundred pounds, long before they topped the charts.
Last year Mumford & Sons, who have also just been Mercury nominated, performed an early slot at Field Day, along with The Big Pink and The Temper Trap, who at that point, were hardly known at all.
In 2008 this year's Mercury-nominated act Wild Beasts played to an audience who largely hadn't got a clue who they were. White Lies also played that year, unbelievably as a new band. In 2007 Field Day hit lucky again when they featured another of this year's Mercury-nominated act, Foals - who played at an early afternoon slot, before they even had a record out.
An undiscovered Laura Marling also performed that year, along with Bat for Lashes, who also went on to become Mercury nominated.
So if past experience is anything to go on, this festival is the place to catch new bands, before everybody else does. This one-day event, which mixes left-field acts and a rustic charm, has traditional stalls that sell jam and cakes, as well as village-fete games including a coconut shy, tug of war and an egg-and-spoon race.
The headline act this year is French art-rock band, Phoenix. Lead singer Thomas Mars also collaborates with his film-director partner, Sofia Coppola, producing soundtracks to many of her films, including The Virgin Suicides, Lost In Translation, Marie Antoinette and the upcoming Somewhere.
Other top acts will include The Fall, Steve Mason, Beth Jeans Houghton, Caribou, Yuk, Cate Le Bon, These New Puritans, Hypnotic Brass Ensemble, Lightspeed Champion, as well as DJ sets from Gilles Peterson and Andy Weatherall. And, on top of that, Super Furry Animals' frontman Gruff Rhys brings his new project, Gruff Rhys vs Tony Da Gatorra.
But alongside these well-known acts that will perform across six stages, including this year's brand new XOYO stage for new talent, there are some real finds. "We have a lot of bands over the years that, at the time they played Field Day, have been relatively unknown and have gone on to be household names," says festival organiser Tom Baker, who founded Field Day in 2007 and who is committed to promoting new up and coming new bands.
"It tends to be about a gut feeling when I hear or see a new act, and I have to like the music and want to listen to it at home. I try my best to spot talent and potential in an artist at an early stage - sometimes there is just something magical about an act that makes them stand out." So who are the bands to watch out for this year?
The London-based post-punk band Factory Floor, with their unusual electronic dance/trance element, have an industrial sound with synths and bowed guitar and hard mechanical drumming. They have been compared to Sonic Youth and Throbbing Gristle.
The Manchester-based Egyptian Hip Hop's catchy synth-pop is massively impressive considering they are a bunch of 17-year-olds who have just finished college and are awaiting their A-level results. They are not even signed and have no album out yet, but their EP, out in September, is produced by Hudson Mohawke, a 23-year-old Glaswegian dubstep producer, who is also hotly tipped for great things. Two of their most well known songs are Wild Human Child - 1980s inflected synth pop - and Heavenly - darker with heavy bass and complex guitar arrangements, reminiscent of early Joy Division. Their debut single Hazel Groove was released in February.
The American singer/songwriter Holly Miranda, from Detroit, is not as under-the-radar as some of the other new bands at Field Day, and she could be an indie pop star in the UK soon. Miranda started singing in her local church, before heading to New York at 16, where she quickly scored a record deal. She put her solo career on hold in 2003 to form a four-piece band, The Jealous Girlfriends.
Still relatively unknown here, she is being relaunched in the UK as a solo artist, having found her home with indie label XL Recordings. Her album The Magician's Private Library, released in February, was co-produced by TV on the Radio's Dave Sitek. Kanye West and Scarlett Johansson are both big fans of her enchanting music. Her dreamy sounding pop - with big sweeping emotive arrangements - is full of longing.
Also hot on many people's lists is the dark and brooding indie band Chapel Club. This intense five-piece band includes Lewis Bowman (vocals), Michael Hibbert (guitar), Liam Arklie (bass), Alex Parry (guitar), and Rich Mitchell (drums). Frontman Bowman has been influenced in his lyric-writing by Ted Hughes, Mikhail Bulgakov, and Ernest Hemingway, amongst many others, while at the core of the intense-sounding songs is love, sex, grief, frustration, and pride.
O Maybe I was released by East City Recordings in February, while their debut single Surface came out in late 2009. Shore from their forthcoming album whirs atmospherically, and is like listening to the sea.
The experimental post-dubstep duo Mount Kimbie released their debut album Crooks and Lovers on Hotflush Recordings, in July. Members Dominic Maker and Kai Campos are following in Burial's footsteps with their highly sough-after remixes. It's dance music that you would actually want to listen to in your bedroom; largely instrumental apart from a few occurrences of distorted house vocals.
The weird and wonderful band Hounds of Hate, whose name references Kate Bush, are a part performance-art installation who have made waves in the Dalston warehouse scene and are set to become a cult act. They themselves describe their sound as having "deep and easy-going elements of house and electro styles, with a hint of P-Funk, mixed with a subtle, lush vibe and optimistic mood". They are, however, a pretty mysterious troupe. They consist of two or sometimes three Dalston scenesters who not only play warehouse raves but make great mixtapes too.
The unsigned and ethereal Brighton trio Esben and the Witch consist of vocalist Rachael Davies singing eerie vocals alongside Daniel Copeman (electronics, guitars) and Thomas Fisher (guitars, keyboards). Their electronic dubstep soundscapes and atmospheric songs tell hauntingly dark tales. Songs include They Use Smiles to Bury You and Skeleton Swoon. Lucia, at the Precipice is about James Joyce's troubled daughter Lucia. They supported the xx at Shepherd's Bush recently and the bets are that they will be stars by the autumn.
"I think Mount Kimbie and Esben and the Witch are the main ones to watch out for this year," says Baker. "We have caught them on the cusp of crossing over into the mainstream. I think they will be playing key slots across all the major festivals in 2011, but in the meantime Field Day is an important show for them."
-The Independent