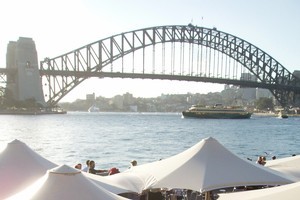 Sydney revisited: it feels like weeks rather than years since I was last there.
On cue, mid-winter sun beams down from an immaculate sky. The vista from the 40th floor of a downtown corporate monument is an instant reminder that this is one of the world's great cities, a powerhouse of energy and ambition in a breathtaking setting.
Nature did its bit and man hasn't done too badly either, if the suburban wasteland that stretches most of the way to the Blue Mountains is conveniently ignored.
Sydney remains a city that marches on its stomach. The cafes and restaurants are abuzz and the two bottle, three course lunch is alive and well.
As a contribution to the debate that has raged in these pages since a blow-in rugby scribe branded New Zealand the rip-off capital of the western world, I can attest that the holidaymaker's routine, that seamless progression from cafe to restaurant to bar to restaurant, is certainly no cheaper in Sydney than in Auckland or Wellington.
And having spent a month in England and France last year when the exchange rate was at its most punitive, I have zero sympathy for visiting Europeans or returning expats who find the pound or euro doesn't go as far here as they thought it would. As they say over there: c'est la vie.
Bob Hawke and Paul Keating are still at each other's throats. What keeps this 20-year-old feud humming along are their contending claims to have been the driving force behind the reformist Labour Government of the 1980s.
But what turned the rivalry into a vendetta and gives it relevance in the current political climate is that Hawke wasn't voted out of office by the Australian people: having won four elections on the trot, he was ousted by Keating in a party room ballot.
The objection then was the same as it is now: to engineer the removal of a sitting prime minister is to thwart the will of the people; it is, in effect, a form of coup d'etat.
The counter-argument has two main strands. Australia doesn't have a presidential system; the prime minister isn't elected by popular vote.
He or she is the leader of the party which wins the most seats, and serves at the pleasure of their parliamentary colleagues.
Secondly, Kevin Rudd's downfall was of his own making, a combination of ineptitude, hubris and a high-handed leadership style. Everyone seems to have an anecdote, usually courtesy of a friend of a friend who knows someone in the parliamentary Labour Party, which portrays him as a control freak with a Napoleonic ego.
The counter counter-argument is that Australia has a de facto presidential system - as indeed do we - because both the party machines and the media see election campaigns primarily in terms of the leaders going head-to-head.
In 2007 Australians had the choice of a government headed by John Howard or one headed by Rudd. They chose the latter. Even the most pedantic constitutionalist would struggle to deny that the current election is essentially a political beauty contest between Julia Gillard and Tony Abbot.
Last time I was in Sydney local boy Mel Gibson was in hot water for anti-Semitism. Now West Pymble's favourite son has added racism and misogyny to his repertoire.
To be fair, he did suggest that if his Russian ex-girlfriend was raped by Afro-Americans, she would've brought it upon herself by her whorish appearance. This represents progress of sorts from your traditional, deep south, Ku Klux Klan-style racism which asserts that black men are genetically programmed to rape white women, end of story.
Gibson has two crosses to bear, three if you count the fact that he belongs to a hard-line offshoot of Catholicism which regards the Vatican as a hotbed of modernisers. The first is his father, a crackpot with a conspiracy theory for everything from the Holocaust to 9/11.
The second is the demon drink. A graduate of Sydney's National Institute of Dramatic Art who achieved stardom in Australian movies like Mad Max and Gallipoli, Gibson is remembered in film and theatrical circles as a deeply serious boozer.
It will be interesting to see how this plays out.
The secret taping of domestic disputes may constitute entrapment; leaking said tapes to the media may constitute invasion of privacy. And how many of those whose relationships have collapsed in acrimony would be comfortable at the thought of some choice sound bites from the terminal phase hitting the airwaves?
It will also be interesting to see whether those Hollywood luminaries who were so vocal in their support of Roman Polanski, another tarnished Academy Award-winning director, now shun Gibson for what he said rather than anything he's done.