Rating: 4/5
Verdict: Something borrowed and something else borrowed too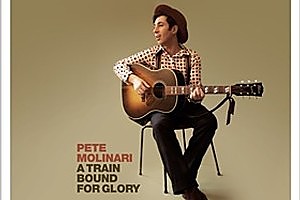 English music-magpie Molinari's previous albums introduced a folk-driven singer-songwriter unashamed of wearing influences, but bringing a twist to them: Walking off the Map in 2006 cheerfully plundered Hank Williams and pre-66 Bob Dylan (and delivered the beautiful original Indescribably Blue); A Virtual Landscape added Sam Cooke soul, Lonnie Donegan skiffle and early Stones into the enjoyable mix.
This time - under a title referencing Woody Guthrie - he takes himself to Nashville and, improbably, kicks off with a sound ripped from The Beatles' Please Please Me debut album.
You can't help but smile at Molinari's nerve, and later when he gets Elvis' Jordanaires in for the gloomy rocker, it is titled Heartbreak Avenue.
Yet Molinari - whose voice increases in range and expression with every album - is more the sum of influences: over pedal steel on To be Close to Your Heart's Desire he casts a lovely Roy Orbison/Buddy Holly ballad; Willow Weep For Me is as fine a country song as Dylan never recorded in '69; the lovely ballad Minus Me sounds like a missing track from Nashville Skyline; he digs out Elvis-era rockabilly and electric blues in places, some cantina soul on For Eliza...
.
Accusations of originality may never be thrown at Molinari, but he brings as much of himself to these styles - and at his most soulful is someone deserving to be heard.