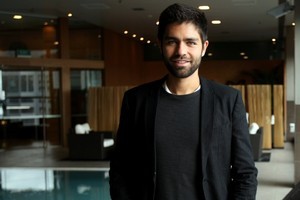 Last night we saw Hollywood star Adrian Grenier take a ride with a chuffed Mark Sainsbury who seemingly forgot about the Close Up car-cam strapped to the vehicle as his wristwatch took star billing in the interview. Doh!
So Sainso can drive. He can also say "s***" on national TV! And it went unbleeped! Even Grenier seemed a little shocked. "Shit is.. a word. Little punk is what I was going to say," the Entourage star says diplomatically of the subject of his documentary that he plugged profusely on last night's Close Up.
Sainso chortles like the school nerd hanging out with the school jock. Did the Close Up producers assume the kids were tuning into Shorty St and out of primetime current affairs?
Then in the Woman's Weekly, MIKATE beam back to us looking gorgeous and in love over several pages of the magazine. She in glitzy purple, in glitzy black and in glitzy white. Who said looking in love doesn't mean looking glamorous?
I'm happy for them, I really am. I am happy they have finally found the confidence to declare their love to us in such a public domain and not just leave it to a public bridge for Melbournites to witness.
Of course, the cynic in me wonders how much they got paid for their public magazine outburst. But with five kids to feed, you probably can't blame them.
I especially admired Hosking's self-deprecating stance. "She puts up with my extraordinary amount of crap," he says in the interview. "I'm well aware that I'm an unusual person. Once you crack through that, I'm highly loveable, but so few have done so!"
So, Hawko is a crack chick. And she's found Mike's loveable side. Where the bloody hell has he been hiding it? Because if we knew he was so self-effacing we would have warmed to him a long time ago.
TV's Mr Likeable, Cameron Bennett, is leaving TVNZ after 24 years as a seasoned journalist reporting from war zones and presenting the current affairs show Sunday. He leaves next month and apparently won't be taking up the PR role with aspiring Supercity mayoral candidate Andrew Williams.
Bennett resigned from his role when he was told he would be dumped from the presenter's position on Sunday and asked to reapply for his job as part of the latest restructuring changes at TVNZ.
Who can blame him? Still, we wonder, if Bennett possessed the "tits and teeth" allegedly needed to be a television reporter these days (according to one disgruntled blogger), would he still be in a job? We doubt it. Restructuring is the sign of the times. Get used to it.