BRMC's new female member hasn't softened the band's heaving sound or dynamic, writes Jacqueline Smith.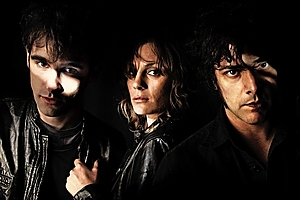 Some rock stars just ain't what they used to be. They fear the effects of excessive drinking, require early nights and don't even smoke. But Californian band Black Rebel Motorcycle Club set the rock 'n' roll record straight. They still live hard and fast, wear leathers and don't give a toss about pleasantries.
Lead singer and guitarist Pete Hayes is in a car park watching his roadies load the band's gear into vans when I ring through. They are somewhere in Sweden, he slurs - that's just the way he speaks.
He's not sure of the time, but yeah, it's late, they've just finished a gig. The phone line crackles as he sways in and out of reception. Someone standing next to him lets out an almighty retch and throws up the contents of a great night. Hayes makes a disgusted noise and murmurs an apology as he steps away. Right, so the party's only just getting started.
Hayes and his black rebels are touring to promote their sixth studio album Beat The Devil's Tattoo - their first release since letting a girl join the club.
Swedish drummer Leah Shapiro, who made her name with the Raveonettes, replaced Nick Jago when he threw a final tantrum and properly left BRMC two years ago. Hayes says he and bassist Robert Levon Been had been eyeing up Shapiro for some time, as they toured together when she drummed for New York band Dead Combo.
Things had always looked volatile with Jago popping in and out of rehab, so they took her number just in case. She may be a girl, but Shapiro hasn't really changed the dynamic, Hayes says - it does help that she is used to the filthy nature of non-stop touring so quickly became one of the boys. Fans seem more than happy with her contribution. And she did provide inspiration for the title of the new record, which was taken from a line in a book of poetry by Edgar Allen Poe that she gave Been.
Meanwhile, the album's mix of laid-back, Southern twang and heaving, beastly tunes was mostly inspired by the band's self-imposed isolation period, holed up in a basement in Philadelphia. This served two purposes. First, it helped the band get to know each other completely - they ate together, breathed together and played music together every day. And being hemmed in also helped Hayes and Been start over, and fall freshly in love with their music.
The end result has been described as the band's most accessible yet - a clear move away from their abstract, purely instrumental 2008 online release The Effects of 333, which really divided the fans.
BRMC has had several makeovers since it was formed by high school friends Hayes and Been in 1998. Their first album was labelled a reincarnation of Jesus And Mary Chain. The third, Howl, which was also recorded in the Philadelphia basement, represented a move towards the laid-back porch bluesman - all gospel-country-rock 'n' roll.
The band has been dropped by two labels over the course of its existence - Virgin dumped the guys for refusing to co-operate with the label's commercial demands just as they released their second album Take Them On, On Your Own, and RCA dumped them after their fourth, Baby 81. So their latest two records were released independently under Abstract Dragon, and now they don't really have to answer to anyone but themselves. Hayes likes that.
LOWDOWN
Who: Black Rebel Motorcycle Club
When and Where: July 23, The Powerstation
TWITTER COMPETITION
To celebrate the tour, we're giving away 6 copies of the latest Black Rebel Motorcycle Club album Beat the Devil's Tattoo. All you need to do for a chance to win, is tweet this...
"RT this and follow @heraldonlineent by 4pm Tuesday July 20 for a chance to win a BRMC CD #heraldbrmc"
We'll pick 6 people randomly from our new followers with the hash tag #heraldbrmc
You have from now, till this Tuesday (July 20) at 4pm.
Legal blah blah
-Entry is free and open to residents of New Zealand.
-Employees of the Promoters, the Promoters' associated companies, the Promoters' agencies and partners associated with this promotion and their immediate families are ineligible to enter.
-Eligible Entrants are those who tweet "RT this and follow @heraldonlineent to win a BRMC CD #heraldbrmc" and follow @heraldonlineent prior to 4pm Tuesday July 20th 2010.
-Prizes consist of 6 copies of Beat the Devil's Tattoo (1 per winner)