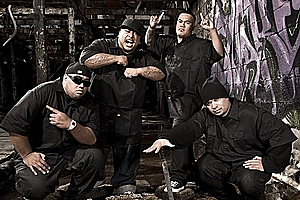 Rating: 4/5
Verdict: They outta here on a high note
While there are no big catchy singles - it seems Savage has saved most of those for his solo career - Evolution is South Auckland hip-hop crew the Deceptikonz most solid album yet. Which is fitting considering it's their last after more than 10 years in the business, and, it's fair to say, they have been one of the most pioneering Kiwi music acts around.
All four members - Mareko, Savage, Alphrisk and Devolo - have scored top 10 solo singles, and Savage, clocking up two million sales of Swing in the US (making it the highest-selling NZ single in America), is the band's biggest success story. But now it's time to move on. To do this, Evolution harks back to the quartet's 2002 debut, Elimination, which had a staunch and sinister mood, but with an ebbing and soulful hip-hop style. The difference this time round is the bigger and better production making the surge and flow of Champagne Moment and monster finale Standing Ovation an accomplished and sonic farewell statement.
Elsewhere it moves from the gothic choral choir sample on We Here, into the epic hip-hop soul of Evolution (with Adeaze), to 2012, the most rock'n'roll moment, with its incessant keyboard stab, wailing chest-beating riffs, and the Dkonz at their posturing best. And now they're going on hiatus "and we're leaving on a jet".
The album also comes with a 16-track bonus disc of Deceptikonz and solo singles, including the beautiful Fallen Angels from Elimination.