Rating: 3/5
Verdict: Zellweger breathes lovely, old-fashioned charm into this screwball comedy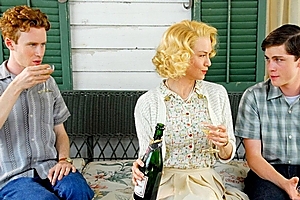 Loosely based on a cross country road trip from actor George Hamilton's childhood, My One and Only is a sweet, modest and nostalgic comedy about one woman's journey to find herself a husband in the early 1950s.
Renne Zellweger is Ann Devereaux, a southern belle blessed with beauty and charm who has finally had enough of her musician husband's philandering ways. After discovering Dan (Kevin Bacon) in their bed with another woman, she packs her bags, picks up her two teenage boys from school - when she remembers which school they attend - and raids the safe deposit box. After buying a baby blue '53 Cadillac Coupe de Ville convertible they leave New York in search of a new husband and provider.
Ann's main focus is self-preservation and she spares little thought for her boys Robbie (Mark Rendall) and George (Logan Lerman) as she drags them to Boston and Pittsburgh, St Louis and finally California. Their destinations are determined by the whereabouts of old flames, and potential husbands. While these rapprochements tend to go wrong, Ann never loses her optimism that everything will turn out all right in the end.
The story is narrated by 15-year-old George who, as the title indicates, adores his mother as much as he's devastated by her separation from his father, and is frustrated with her narcissism and impracticable nature. This road trip is filled with wacky characters and disastrous engagements, but this is all light inconsequential fluff. At its heart this film is about a family coming of age, learning to love and respect each other.
The story feels as though it's been embellished, giving this road trip a madcap edge, yet for all its quirkiness it is told in a conventional manner which suits the film's time period. Pleasant and occasionally poignant, My One and Only may not be the most memorable film you see this year but it features wonderful Mad Men-era costumes, nice wit and a heartwarming performance by Zellweger.
Cast: Renee Zellweger, Kevin Bacon
Director: Richard Loncraine
Running time: 108 mins
Rating: M (Low level offensive language)