Rating: 3/5
Verdict: A far-fetched, nonsensical plot is saved by the charm of Cruise and Diaz and plenty of action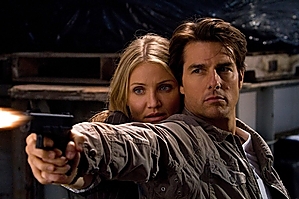 Throw together The Bourne Identity, Mr and Mrs Smith and a touch of James Bond and you've got Knight and Day, a light, fast-paced action thriller staring Tom Cruise and Cameron Diaz.
Things haven't been quite the same for Tom Cruise since the couch-jumping incident on Oprah, but his inclination for, shall we say, "random behaviour" serves him well in this film. His character Roy Miller is a FBI special agent in possession of top secret information. On the run from his employer, Miller is a combination of charming and crazed, which is intentional, as the point of the film is to work out whether Miller is a nutter, a hero or a rogue agent. Needless to say, at times it's hard to work out whether you're watching Roy Miller or Tom Cruise.
Miller's story is told from the perspective of June Havens (Cameron Diaz), a nice, normal girl from Boston who boards a plane also being taken by Miller. Their fellow passengers are FBI agents onboard to eliminate Miller and retrieve the information he's stolen, so he kills them all, including the pilots, and lands the plane in a cornfield.
After walking away from their crash landing, Miller drugs Havens while warning her to beware the FBI, and the following morning a bewildered Havens wakes up in her own bed unsure whether the previous day was a dream or not. Unfortunately for her, Miller thinks it's best if they stay together and they begin an unorthodox romance on the run.
This film is all about Cruise. His character is the smartest and most complex, able to outsmart the FBI, survive numerous attempts on his life and save the girl; but it's Diaz's warm, sexy, ditzy routine which makes it all bearable.
Cruise and Diaz have worked together before (Vanilla Sky) and they're a good match. Both have the athleticism to pull off the stunts and the goofiness to pull off the comedy, but this doesn't help them deliver the romance. They're a fun couple, but hardly burn up the screen with sexual chemistry.
There is plenty about the story that makes no sense.
Drugging Havens becomes something of a habit for Miller, and she regularly wakes up in a different country, with a new set of clothes. Not bad for a woman without a passport. It's implausible, but an easy way for director James Mangold (Walk the Line) to get the characters out of one action sequence and into another exotic location, ready for the next.
But really, this isn't a film you can feel smug about spotting the plot holes in - it's swimming in them. Knight and Day struggles to maintain a balance between taking the spy genre seriously and having a good laugh at it as well, but when in action mode it works well and provides good fun escapism.
Cast: Tom Cruise, Cameron Diaz
Director: James Mangold
Running time: 109 mins
Rating: M (violence/offensive language)