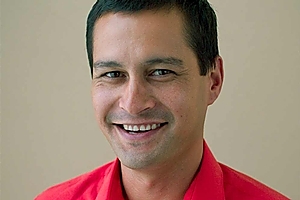 People are hard to please sometimes - and when you're in the business of playing music to the masses at a wedding, or a similar celebration, the pressure can be overwhelming. Scary even.
And sometimes, especially when the alcohol has lubricated those dancing legs and loosened poisonous tongues, you can't help but think the human race really can be quite awful (more on that later).
But first, at the weekend I found myself doing the music at a family wedding in Wellington. It was a hoot.
My young cousin started out DJing, and was a far better bet for the simple fact he knew how to use "the jukebox" properly. But he had to go early, leaving me to man the music.
This funny-looking music playing machine - which had a great selection, with everything from The Beatles to Tiki Taane and the Patea Maori Club to Pantera - looked like a prehistoric iPad sitting up there on the table.
You could drag the tracks you wanted to play across the screen into a playlist, swap them round, and mix them (albeit crudely) into each other. But every time I'd got a good track list going - with a well balanced mix of young and old, pop and rock, and requests and personal selections - it would delete. So I'd start over again, trying to remember what song my Uncle Bruce wanted by The Hollies.
"It's a great song. One of the best ever written," he had proclaimed.
Surely it was Long Cool Woman (In A Black Dress)? It'll do. It must've been because he got down to it.
And what was the Neil Diamond song that lovely polite lady wanted me to play? Sweet Caroline perhaps? That'll do. It turns out it wasn't, it was Cherry Cherry. The live version, of course, you idiot.
I tell ya, at the wedding I was floundering. And a lot of the time, I failed miserably. Surely Donna Summer's I Feel Love is a classic? A classic flop more like it. Although I still love it. And Fleetwood Mac's Go Your Own Way suffered a similar fate, even though it got a few bums off seats.
But thank the mighty Dalvanius for Poi E. It was a hit. My cousin and her kids were flinging imaginary pois around the room, Maori and Pakeha alike were dancing round the room, and I even cracked out my best bop moves like Jo the breakdancer from the video.
And thank the dancing gods for the kids too, who will dance as long as the song's got a good beat to it. Be it John Cougar Mellencamp's Hurts So Good, to, er, Jason Mraz (how did he get on the playlist?), and Michael Jackson's Billie Jean. Although my cousin's little boy looked at me blankly when I was trying to tell him that Billie Jean has one of the best bass lines and beats in music history.
My mum danced a lot too. Thanks Mum.
I have to say, the wedding guests were not rude at all, and were just eager and keen to dance to a couple of their old favourites. And it was a hoot.
But at a recent event, which will remain nameless, I was surprised how rude people can be when it comes to playing a song they want to hear.
There was swearing, abuse, and accusations of music snobbery directed at me. I was a little taken aback by it all, and ended up playing a stream of 80s hits to appease the few rabid attackers. Which was cool, because they danced and had a good time, but I tell ya I was a Madonna song away from spilling some blood on the dance floor.
So think twice before you hang, or harangue, the DJ. By all means recommend - just don't swear at them, because it's a tough and often nerve-racking job.