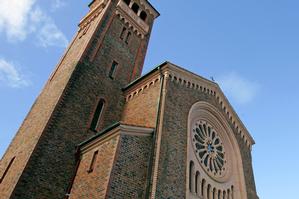 Ever ready with quip and merry banter, Indra Hughes introduced Musica Sacra's Sunday concert with a tongue-in-cheek apology for the rather downbeat nature of the Purcell anthems his choir would soon be singing.
"Three mournful and dreary texts on how we're all going to burn in hell," he said, providing a macabre complement to the sensation of heated pew on gluteus maximus.
In fact, Purcell's was the most memorable music of the evening. Lord, how long will thou be angry may have revealed disturbing signs of an unfocused choral sound that would be more problematic after interval but a robust Jehovah, quam multi sunt hostes needed no apologies, apart from an ineffectual bass soloist.
Particularly riveting was the flamboyant sweep of Hughes' harpsichord introducing the women's voices at the words "quia Jehova sustenat me".
Hughes' continuo work was a joy and a stylish anchor in three Trio Sonatas by the composer, one of which was mystifyingly listed as having been written two years after Purcell's death. After interval, Louis Spohr's Mass for Double Choir was the "rediscovered gem" which had given the concert its title.
In his introduction, Hughes positively bubbled with promises; there would be "juicy gorgeous harmonies" and, it would seem, little bits of every composer you might imagine.
Indeed, this take on the Italian Renaissance choral style, written just after Weber's Der Freischutz, had spurred the competitive Spohr to resuscitate one of his own neglected operatic scores.
The ambitious Double Mass demands unfaltering choral confidence, which fluctuated rather worryingly. Constantly shifting chromatic textures often tainted intonation and Spohr's intricate voicings were not always comfortable for individual lines.
A programme note told us the openings of the Gloria and Credo were laboured and repetitive; in fact, here was some of the strongest and most satisfying singing of the evening.
Serenity was achieved by the end of the Agnus Dei, Spohr's most vivid inspiration, as solo voices, admittedly varied in quality, cried out against hushed chanting.