Rating: 4/5
Verdict: Another long-lost African gem. This time from Ghana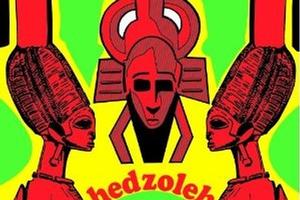 The story behind this album by Ghanaian Afro-rock and highlife heroes Hedzoleh is that it was recorded a few months before the band met South African trumpeter Hugh Masekela in 1973. Instead of being released as is, these songs became the framework for Masekela's popular afro-jazz album, Masekela - Introducing Hedzoleh Sound, which somewhat overshadowed the original version.
But now, thanks to the Soundway label, who have released many excellent African compilations and reissues in recent years, the album in its initial form gets its own reawakening. And it's the rebirth of cool, trippy, stripped back and wildly clattery grooves.
The title track, and signature tune for the band, is an eerie and often unsettling seven-minute piece with multiple levels, which veers off into many divergent directions. There's the percussive clatter of the opening, the outburst of psychedelic Hendrix, on to the whoops and pulsing tribal funk midway through, and then on to the brief tin whistle flurry before rough-and-ready vibes and beats take over to the end.
It's quite something.
Elsewhere, though, it's traditional Afro-rock, funk and soul meets western rock'n'roll that takes over, with Hearts Ne Kotoko's cherry whistle and guitar frenzy; Kaa Ye Oyai (Don't Be In A Hurry) builds with the minimal intensity of a 60s folk song, only it's beefed up by multi-part vocal harmonies; and the rousing Yei Baa Gbe Wo also raises a little chuckle with the wobbly elastic band sound of what could be an African zither. This highlife sure makes for some high times.