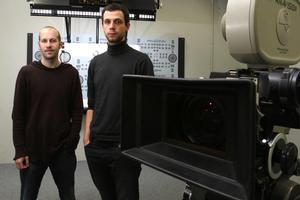 Another year, another 150 films. This is what makes winter worthwhile. The 42nd Auckland International Film Festival got under way last night with a screening of I Am Love, a ravishing and sometimes hilariously over-the-top Italian melodrama - like Dynasty but with good food - that reminded us why it was the Italians who invented opera.
It was also further proof, if any were needed, of the brilliance of British actress Tilda Swinton - an Oscar winner for Michael Clayton. She is fantastic as the Russian-born mother in a family of rich industrialists in Milan who longs to break free of the stifling world in which she lives. I'm not sure that it was an ideal choice for an opening night film. It was occasionally slow and the chap up the back who plaintively called out "Can we laugh now?" when the end credits began to roll may have spoken for others - although he may also have missed the point.
Talking to a few people afterwards, I had the impression that the film appealed more to women than men. The on-screen image seemed slightly fuzzy to me though whether that was a projection fault, part of a visual design inspired by Renaissance painters' sfumato or because I've been watching too much of the World Cup on the HDTV, I couldn't be sure.
In any case, just watching the coolly beautiful Swinton, whose face seems capable of registering whole worlds of emotion, made the evening worthwhile. She has a small connection with New Zealand, having played the Ice Queen in first of the Narnia films, The Lion, the Witch and
the Wardrobe which shot here, and she's playing the main role in an adaptation of Lionel Shriver's riveting novel We Need to Talk About Kevin which has just finished shooting.
The mighty Civic was packed for opening night and its beauty came in
for plenty of comment from festival director Bill Gosden, the CEO of
the Edge, Greg Innes, and Auckland Mayor John Banks. Whoever had
written Banks' speech for him either hadn't put any commas in it or
His Worship didn't realise what they meant and rolled right over them.
Still he (narrowly) avoided directly campaigning for the elections and
even trotted out some jokes (the old ones are the best ones, eh, John?)
Local filmmaker Sam Peacocke, a well-regarded music-video maker, was
also called to the stage. He'd been nominated by the Friends of the Civic group as the most promising newcomer for his short film Manurewa, which will be screening several times in the festival. Ask at the information desk if you want to be sure when to catch it.
Afterwards, the invitees who had remembered their invitations repaired
to the downstairs lounge, formerly the Wintergarden, for finger food
and drinks from sponsor suppliers (Kumeu River wines and Epic beer). I
didn't stay long enough to see anyone disgrace themselves; I had to
head home early ("It is a school night after all," someone said to me
on the stairs) and I need my sleep if I'm going to stay awake at the
right times for the next fortnight.
I'll be blogging from the festival right through that time, giving you
reports from the front line. It's a quiet year for me - by the time
I've finished I doubt that I'll have managed even a third of those 150
films. And I won't be writing about every one. This blog aims to be a
record of one festivalgoer's 17 days of celluloid overdose - not a
film review site. I hope you'll get in touch with your thoughts and
comments as well as suggestions for things you'd like me to check out
- or sort out. I can't promise anything - but I'll certainly make a
nuisance of myself on your behalf. Don't forget to send in bouquets
too, which I'll be sure to pass on to organisers: they do a great job.
See you at the movies.