Rating: 5/5
Verdict: As great as its predecessors and then some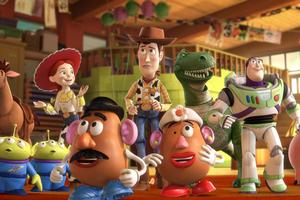 Well, you kind of suspected it was always going to look good.
After all, this third Toy Story movie has theoretically been 11 years in the making since part two. That's a long time in terms of computer animation. Compared to the 1995 original, this might be only the third film but it's possibly version 333.0 in the software.
It's also the second Pixar feature, after last year's Up, to arrive in 3D. So the visual wonders were always going to be a given. And they are. Especially as its 3D incarnation is a leap-into, not a leap-out, experience.
After the warm-up of preceding short Day & Night (a neat marriage of fluid hand-drawn style and 3D computer animation) you are drawn into the toys' colourful concave world.
That's right from the high-action prologue which comes with the film's first great line "Death by monkeys!" while telegraphing the rollercoaster ride to come. So yes, dazzling right from the get-go.
But the real joy of Toy Story 3 isn't in the upgrade of what you see. It's in how it takes its familiar world and characters and uses it as a leaping off point to a story that is clearly the smartest, deepest, funniest and darkest of the trilogy.
Its themes - adolescence, obsolescence, loyalty and mortality among others - have come up before in the series. But here they resonate like never before, and the combined emotional punch of this supposed cartoon is right up there with the shooting of Bambi's mother.
Which might be too scary for some youngsters, while others might just wonder why their accompanying adults are getting all teared up (I sure did), especially as this heads to its big toys-in-peril climax and the perfectly bittersweet finish beyond that.
It all starts, however, after that high-action prelude, with the toys facing a future without their owner Andy. Off to college, he's putting away his childish things and - after some clever switcheroos - the gang end up donated to a daycare centre where they will be played with like they haven't been for years and supposedly live happily ever after. Woody, however, has found a new home, but feels it's his duty to get back to Andy.
Meanwhile, all is not as it seems at the kindy. The toddlers don't treat their new playthings very well and the place is presided over by a purple bear, Lotso, whose jovial furry exterior hides a dark heart. He runs the centre like a prison, with the help of fellow dolls, the mute but scary Big Baby and Ken, whose scenes with the newcomer Barbie deliver a healthy percentage of the laughs.
But in the first of its dark turns, Toy Story 3 becomes a jail film (complete with a sly reference to the Paul Newman chain gang movie Cool Hand Luke) and the only way to freedom involves a sandpit, a garbage truck and much much worse.
But as the thriller tension mounts, sometimes it can feel like there are maybe one or two ingenious animation flourishes too many. Though Mr Potato Head briefly becoming a tortilla is quite something to see, and Buzz Lightyear's talk-mode switch being flicked to "Spanish" sure is funny.
Likewise, this film should push all of your buttons and tug all of your drawstrings. Especially the ones marked "laugh" "cry" and "look amazed".
It's brilliant and if it's the last, it's a classic end to one of the great movie trilogies.
Voices: Tom Hanks, Tim Allen, Joan Cusack, Michael Keaton
Director: Lee Unkrich
Rating: G
Running time: 103 mins