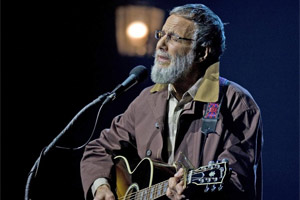 This was Yusuf Islam's first time here under either of his names.
He didn't make it under his old Cat Stevens moniker in his folk-rock hit-making heyday either.
And that was despite his band back then including Kiwi bassist Bruce Lynch, who joined Islam's band on one song last night.
So there was a lot of catching up to do in front of a sold-out Vector audience, people for whom those Stevens hits obviously form a good part of their personal soundtracks.
And for good reason too - his songbook of the late 60s to 70s put him alongside the likes of Elton John to Neil Diamond to Paul Simon as a pop perennial.
He's long been one of those guys whose classic tunes you've never had to own to know the best bits by heart.
But if they expected just an accurate rendering of the old folky anthems, the singer-songwriter had other ideas.
His reedy voice may not have aged a day, but his memory lane now has a few diversions to it.
The biggest of those last night was a mid-concert preview of his work-in-progress musical, Moonshadow which came complete with narration - boy-meets-girl on distant sun-deprived planet, loses job, to be continued - bad sci-fi hippy backdrop art and irksome reworked versions of old songs like Matthew and Son and Old School Yard.
Elsewhere he dashed off a quick medley of early songs including I Love My Dog and Here Comes My Baby, and reclaimed The First Cut is the Deepest from that Scottish guy who made it his own.
And while it was a show of curiously indulgent periods, including too much idle chat and an excruciating jazz-funk fusion odyssey by his backing band to allow their boss a change of shirt, it got there in the end.
True, there was a little too much forgettable new stuff, but Roadsinger, the title track from last year's album, held its own against the older tunes.
And of those, Wild World (complete with Zulu-translated verse), Where Do the Children Play? (dedicated to a certain ecological disaster), Moonshadow and Father and Son were delivered in heartfelt style and brought the audience to its feet for multiple encores.