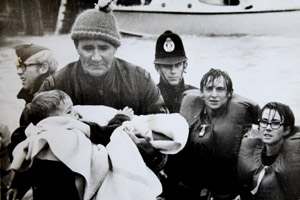 After the strange sad tribute to itself that was TVNZ's Cheers to 50 Years earlier in the month, the news wing thought it had better mark the occasion the history of small screen journalism with something more dignified.
That it was. Well until the newsreader blooper reel came out about the time the 1960s was ending about 20 minutes in, anyway.
But the apparent haste in its preparation seeped through this two-hour One News special which attempted to be exhaustive but just came out exhausting.
Mostly, it was event after event after event with the tag team of Paul Henry, Wendy Petrie and Simon Dallow collectively pushing on the fast-forward button on the past five decades. All while intoning from a heavily padded script that forced some whiplash inducing connections between events and some cliched ways of recalling them - is there Vietnam footage that doesn't come with a period rock soundtrack? Does the Apollo 11 landing really require the accompaniment of Blue Moon followed by Fly Me to the Moon to make it work better?
It did come with some older hands in talking head mode, offering their perspectives on what it was like from their side of the camera.
Dougal Stevenson, fresh from his embarrassments on Cheers to 50 Years, got to say "the facts, be careful about the facts" and not much more.
Paul Holmes started out being defensive about the criticism he got for that first night Dennis Conner interview and his show's Aramoana coverage but eventually got past his old sensitivities to offer sage thoughts on other Holmes moments.
Keith Quinn rattled off the greatest NZ sporting moments - with no surprises - from his long and glorious commentary career. Best of
all, though, was Bill McCarthy recalling being the newscaster delivering the news of an Air New Zealand plane missing over Antarctica and the power of understatement of his script's final line. The programme could have done with more anecdotes like that.
But elsewhere you got the feeling some were drafted in to make up numbers or fill some holes. Not sure if Peter Williams or Mark Sainsbury were quite up to the job of offering perspectives on the '81 Springbok Tour.
Likewise, Judy Bailey talking about how great it was to have a correspondent at the fall of the Berlin Wall rather than having said correspondent seemed pointless.
And its look back at the Wahine disaster coverage felt cribbed from 50 Years of NZ TV, Prime's excellent series which, in its first episode talked about how the NZBC's then green young cameramen had been traumatised by their involvement.
One of those cameramen today (introduced with no name) was found and asked "how did that feel?" and got misty eyed in reply.
It felt like a cheap shot in another tribute show that was too much, too fast, and too late.